Sorrentino's comedy trama The Great Beauty comes to Blu-ray and DVD in January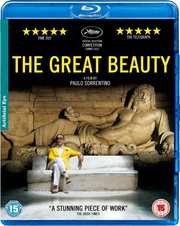 One for the culture fans this, as
Artificial Eye
have announced the release of Paolo Sorrentino's Italian comedy drama
The Great Beauty
for 13th January on both standard and high definition formats.
This stars Toni Servillo, Carlo Verdone, Sabrina Ferilli, Carlo Buccirosso, Iaia Forte, Pamela Villoresi, Galatea Ranzi, Franco Graziosi, Giorgio Pasotti and Massimo Popolizio.
No details on extras yet, but the runtime will be 137 minutes, it carries a 15 certificate, and a recommended retail price of £15.99 for the DVD release, and £19.99 for the Blu-ray.
Synopsis and trailer follows...
Jep Gambardella, a 65-year-old journalist and once promising novelist, lives his easy life among Rome's decadent high society in a swirl of rooftop parties and late-night soirees.
But when he learns of the death of his friend's wife, a woman he once loved as an 18-year-old, his life is thrown into perspective and he begins to see the world through new eyes.