Comedy Frances Ha comes to DVD and Blu-ray in January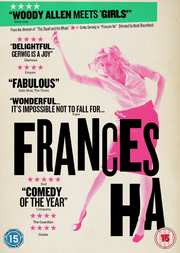 Ooh look, our first announcement for a 2014 release! And this is one that looks really fun judging by the trailer, and you really should watch the trailer!
Metrodome Distribution
have announced comedy
Frances Ha
on DVD and Blu-ray for 6th January 2014. Did we mention about the trailer?
Directed by Noah Baumbach, this stars Greta Gerwig, Adam Driver and Mickey Sumner. With a runtime of 86 minutes, the recommended retail price will be £17.99 for the standard definition release, and £19.99 for the high def version.
Synopsis and trailer follow...
Sometimes it's good to do what you're supposed to do, when you're supposed to do it. The trouble is, Frances isn't really doing anything. When her best friend Sophie moves out of their apartment, Frances finds herself completely lost; floating from place to place, making a lasting impression on everyone she meets.
From director Noah Baumbach comes this joyous rites of passage journey of one hapless New Yorker, cast adrift on a voyage of friendship, dating, dead-end jobs and dancing.