UFO - The Complete Series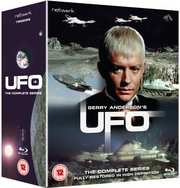 Certificate: 12
Running Time: 1300+ mins
Retail Price:
Release Date: 14/11/2016
Content Type: TV Series
Synopsis:
Gerry and Sylvia Anderson's landmark series UFO returns in a stunning new HD restoration, available exclusively to pre-buy now here for £75 (Terms and Conditions apply)

1980. After ten years development in top secrecy, SHADO – Supreme Headquarters Alien Defence Organisation – goes live. Its aim: to combat the threat of an alien invasion from a dying race who abduct humans to repair their own decaying bodies. SHADO's dedicated operatives fight a secret war against Earth's terrifying new menace: on land, sea, air – and in space!

The first live-action television series from Gerry and Sylvia Anderson, UFO remains a benchmark sci-fi production, featuring mature storylines and groundbreaking special effects. Long-awaited on Blu-ray, it is presented here in a stunning new High Definition restoration, with all 26 episodes offering original mono or 5.1 soundtracks, alongside a wealth of special features.
Special Features:
Gerry and Sylvia Anderson's landmark series UFO returns in a stunning new HD restoration, available exclusively to pre-buy now here for £75 (Terms and Conditions apply)

1980. After ten years development in top secrecy, SHADO – Supreme Headquarters Alien Defence Organisation – goes live. Its aim: to combat the threat of an alien invasion from a dying race who abduct humans to repair their own decaying bodies. SHADO's dedicated operatives fight a secret war against Earth's terrifying new menace: on land, sea, air – and in space!

The first live-action television series from Gerry and Sylvia Anderson, UFO remains a benchmark sci-fi production, featuring mature storylines and groundbreaking special effects. Long-awaited on Blu-ray, it is presented here in a stunning new High Definition restoration, with all 26 episodes offering original mono or 5.1 soundtracks, alongside a wealth of special features, including:

Video Tracks:
1080p HD 1.33:1

Audio Tracks:
Dolby 5.1 / Mono / English

Subtitle Tracks:
English HoH

Directed By:
David Lane ... (8 episodes, 1970-1971)
Ken Turner ... (6 episodes, 1970-1971)
Alan Perry ... (5 episodes, 1970-1973)
Jeremy Summers ... (2 episodes, 1970-1973)
David Tomblin ... (2 episodes, 1970-1971)
Cyril Frankel ... (2 episodes, 1971-1973)
Gerry Anderson ... (1 episode, 1970)
Ron Appleton ... (1 episode, 1971)

Written By:
Gerry Anderson ... (creator) (26 episodes, 1970-1973)
Sylvia Anderson ... (creator) (26 episodes, 1970-1973)
Reg Hill ... (26 episodes, 1970-1973)
Tony Barwick ... (12 episodes, 1970-1973)
David Tomblin ... (3 episodes, 1970-1973)
Ruric Powell ... (2 episodes, 1970-1971)
Alan Fennell ... (2 episodes, 1970)
Terence Feely ... (2 episodes, 1971)
Donald James ... (1 episode, 1970)
Alan Pattillo ... (1 episode, 1970)
Dennis Spooner ... (1 episode, 1970)
Bob Bell ... (1 episode, 1971)
David Lane ... (1 episode, 1971)
Ian Scott Stewart ... (1 episode, 1971)

Starring:
Ed Bishop
Dolores Mantez
Michael Billington
Ayshea Brough
George Sewell
Gabrielle Drake

Casting By:
Rose Tobias Shaw

Soundtrack By:
Barry Gray

Director of Photography:
Brendan J. Stafford

Costume Designer:
Sylvia Anderson

Production Designer:
Bob Bell

Visual Effects:
Derek Meddings

Producer:
Reg Hill

Executive Producer:
Gerry Anderson

Distributor:
Network Distribution