Thunderbirds - Complete Series (Blu-Ray)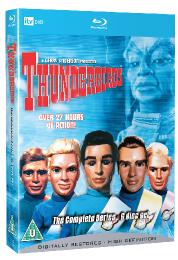 Certificate: U
Running Time: 1920 minutes
Retail Price: £129.99
Release Date: 15-09-08
Content Type: TV Series
Synopsis:
THE THUNDERBIRDS ARE GO!
GERRY ANDERSON'S SEMINAL SUPERMARIONATION SERIES 'THUNDERBIRDS' IS AVAILABLE COMPLETE IN HIGH DEFINITION BLU-RAY FORMAT FOR THE FIRST TIME!

Calling all Thunderbirds fans!! ITV DVD is proud to announce that Gerry Anderson's seminal creation is coming to Blu-ray DVD on 15th
September this year. This iconic and phenomenal cult series, marked a breakthrough in British Television with its use of Supermarionation
and special effects and will be available in a 6 disc, 27 hour box set packed with amazing extras.

Featuring all 32 episodes, you can follow the heroic and daring efforts of International Rescue (Jeff Tracy and his 5 sons; Scott, Virgil, Alan, Gordon and John) as they save the innocent from perilous
and dire situations caused by the villainous terrorist organisation, The Hood. Living on the remote,uncharted Tracy Island in the Pacific, they are ably assisted by scientific mastermind 'Brains', Lady
Penelope and her chauffeur 'Parker' and the Tracy's manservant Kyrano and his daughter Tin-Tin.
Special Features:
Special Features
Disc 1: Thunderbirds Companion
Disc 2: 4 x original TV ads, All About Thunderbirds Documentary
Disc 3: The Machines Featurette
Disc 4 : The Characters Featurette
Disc 5: Lady Penelope & Parker Featurette
Disc 6: Making of Thunderbirds Featurette
With recent high-profile advertising featuring both 'Brains' and the Thunderbirds, generation after generation
are growing up with International Rescue. FAB!

Soundtrack By:
Barry Gray

Music From:
Barry Gray

Producer:
Derek Meddings

Executive Producer:
Gerry Anderson
Sylvia Anderson

Distributor:
ITV DVD