Bad Boy Bubby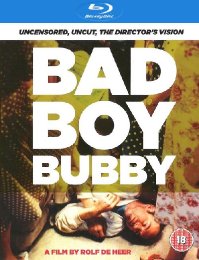 Uncensored, Uncut, The Director's Vision
Certificate: 18
Running Time: 114
Retail Price: £19.99
Release Date: 03/08/2009
Content Type: Movie
Synopsis:
Awarded the Special Jury Prize at the Venice Film Festival, Bad Boy Bubby with its hard hitting content of deprivation, mental illness and incest shocked its audiences to become one of the most daring and controversial cult films of the 1990s.

Nicholas Hope gives an astonishing performance as Bubby, a demented man-child kept locked for his entire life in a squalid apartment by his depraved mother who uses him for sex.

When Bubby who can only communicate by mimicking what others say and do, escapes into the outside world, he soon discovers young women, crime, rock'n'roll, and pizza. Will this naive 'mad bastard' be destroyed by the realities of our cruel world, or does a higher calling ultimately await him in the most unlikely place of all?
Special Features:
- Audio Commentary
- Interview with Rolf de Heer

Video Tracks:
1080p Widescreen 2.35:1

Audio Tracks:
DTS-HD Master Audio 5.1 English
Dolby TrueHD 5.1 English
Dolby Digital 2.0 Stereo English

Directed By:
Rolf de Heer

Written By:
Rolf de Heer

Starring:
Nicholas Hope
Claire Benito
Ralph Cotterill
Carmel Johnson
Norman Kaye
Paul Philpot
Peter Monaghan
Natalie Carr
Rachael Huddy
Bridget Walters
Lucia Mastrantone
Grant Piro
Dave Flannagan
Mark Brouggy
James Bonifazio
Emma West

Soundtrack By:
Graham Tardif

Director of Photography:
Ian Jones
Paul Delawitz
Kim Vaitekius
Rick Martin
Clive Duncan
Ross Blake
Steve Arnold
David Burr
Gerald Thompson
Richard Michalak
John Chataway
Jeff Morgan
John Ogden
Barry Helleren
Tibor Hegedis
Paul Amitzboll
John Armstrong
Ernie Armstrong
Brian Bosisto
Brigid Costello
Brendan Lavelle
Lisa Tomasetti
Harry Glynatsis
Walter Holt
Geoffrey Simpson
Steve McDonald
Roger Lanser
Simon Cardwell
Richard Rees-Jones
David Foreman
Max Pepper

Editor:
Suresh Ayyar

Costume Designer:
Beverley Freeman

Production Designer:
Mark Abbott

Producer:
Domenico Procacci
Giorgio Draskovic
Rolf de Heer

Distributor:
Eureka Entertainment