Terminator 2: Skynet Edition
Seven years after James Cameron introduced the world to that big Austrian with a strange Teutonic accent and the 'Terminatorverse' with one of science fiction's most impressive and influential films, he embarked on a sequel armed with a bigger budget and state of the art special effects.  The result was Terminator 2: Judgement Day or, as most people know it, T2.   

Terminator left off with a pregnant Sarah Connor dictating a message to her unborn son having been convinced that Judgement Day was not far off (1997) and that he was to grow up to lead the resistance that would defeat the machines in the ensuing war.  Due to her insistence that what happened was real Sarah is now locked up in a high security psychiatric institution and her son lives with foster parents who he hates and spends his time hacking into ATMs, playing video games and riding around on his motorcycle.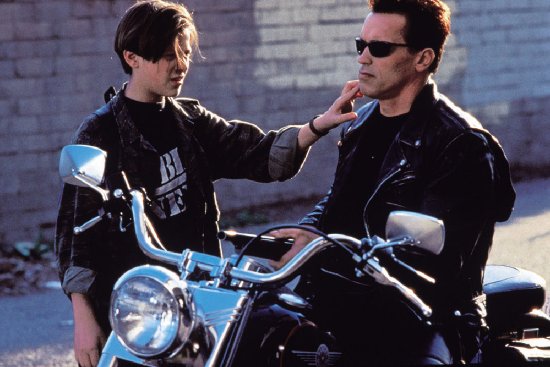 Machines being machines, they didn't think it was enough to fail to kill Sarah Connor before she could give birth to John so they dispatch another Terminator to the past to kill the child.  Technology has obviously improved so the 'metal' that appears in the electro-magnetic orb takes the appearance of the first human it encounters: a policeman.  Whereas the Terminator in the first film was a robot skeleton with some muscle and skin on top, the new and improved T-1000 is liquid alloy and can shapeshift, take on any appearance it likes and turn to liquid to get through any obstacle in its path.   The humans are obviously aware of the machines' plans and dispatch their own Terminator to protect John.  An older model, but superior to that in the first film, the T-800 has the appearance of the very same Terminator that was trying to kill Sarah Connor and is played in iconic fashion by Arnold Schwarzenegger.   
The two Terminators race to find John before the other with the T-1000 (Robert Patrick) using his guise as a trusted law enforcement officer to gain a photo from his foster parents and research into John using the police database.  The Terminator uses his own methods and soon realises that protecting the young John (Edward Furlong) will be a difficult task when they meet in an arcade and his shotgun pellets go straight through the T-1000.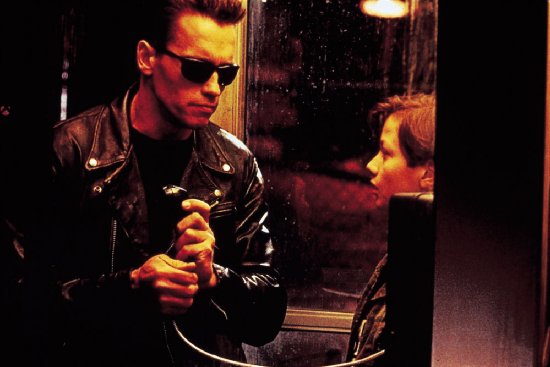 Terminator 2
is a terrific adrenalin rush of an action film with so many memorable sequences, scenes and exchanges and I've seen it many times but never in High Definition.  It had been a long time since I last watched it and it was amazing how quickly the dialogue and narrative came flooding back but I was absolutely astonished at how good it looked and sounded for a film made 18 years ago.  Arnie is perfect for the Terminator role as he isn't the most expressive of actors and is basically a muscle-bound action star and his weird accent really fits a cyborg.  In his breakthrough role, Robert Patrick is incredible creepy and sinister, hell bent on killing John Connor and not letting anything stand in his way whether animal, human or structural.  If something needs destroying, he will destroy it without emotion.  Linda Hamilton makes the transition from naïve waitress convinced of her part in some greater plan to a focused individual who is prepared for the war to come and, like the Terminators, can be devoid of emotion and ruthless.   
Though I prefer the first
Terminator
film this is a more enjoyable popcorn movie which isn't as deep but compensates with stunning visuals and superbly choreographed action set pieces.  The shoot out between the Terminator and the police and SWAT teams at the Cyberdyne headquarters is something to test your system and looks as good now as I imagine it did in 1991, if not better.
The Disc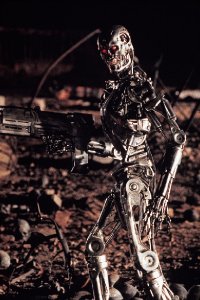 Extra Features

This Skynet Edition draws together all previously released supplementary material and presents it on one disc. You can choose whether to watch the theatrical cut, or special edition and whether to watch the film or listen to one of the two commentaries. Both are very good covering different information and are recorded for the special edition, so if you watch it with the theatrical cut, the scenes and the commentary for them go seamlessly. There are various other things on the disc, like HD trailers and other promotional materials for the film plus some deleted scenes that are in the special edition. Taking advantage of Blu-ray's technical capabilities, there are no fewer than 8 Picture-in-Picture options which include a trivia track, a quiz and games. These vary in quality and some information from the commentaries is repeated.  With things like Trivia Tracks and pop-up windows with behind the scenes footage, you don't want to have to concentrate too hard but this is the case here with some of the text moving at a hell of a rate, especially the production details and screenplay during a busy scene with them scrolling too fast to read. 
These extra modes are:  
Visual Implants

- This basically takes the making-of and interview footage from previous DVD releases and combines them to create a PiP commentary.  It duplicates everything you've seen before if you've gone through the extra material on your existing copy of

T2

and therefore its only of any interest to someone who doesn't already own it.  




Trivia Data Overlay/Production Data Overlay/Linked Data Modules 

- this shows how the menu could be better designed as they are three separate entities under the same heading.  The first is a tribute track which takes some information from the two commentaries and mixes with some other facts of note.  It's not bad and is quite interesting, especially if it's been a while since you last listened to the commentaries (if ever).  The production overlay shows the technical information that went into designing some of the more complex shots.  Finally, linked data is an audio based feature that appears over slideshows that appear randomly through the film - this is probably the best of the three.  

 





Source Code/Schematics

- again, this is a case where more than one feature has been lumped together with another; Source Code is the screenplay which scrolls along with the action on screen whereas the Schematics are storyboard sequences, also moving according to the corresponding place in the film.




Query Mode

- this is a quiz that pops up throughout the film with random questions about

T2

and the associated 'Terminatorverse', testing your knowledge of the film and related material, often just before it appears. 




Processor Tests

- I couldn't get this to work or I did and nothing happened in the time I waited.  Hmmmm.




Data Center

- this is BD-Live which I didn't access because I'm not a big fan of the system and, when I was browsing through this material, it wasn't on general release so there wouldn't be many people to talk to.   
Considering this is supposed to be the ultimate and be all and end all to the
Terminator 2
saga, it's a shame there's not even so much as an introduction by James Cameron, telling you about the disc and how it is the definitive release that gets his personal seal of approval - we don't even know that it is; maybe another version will be out in 5 years with a brand new commentary and series of retrospectives from members of the cast and crew. Until then though, this will replace every version of
T2
that you own. One downside of all these extra features and other stuff is that the disc takes an age to load and isn't too quick skipping between the interactive mode and main menu.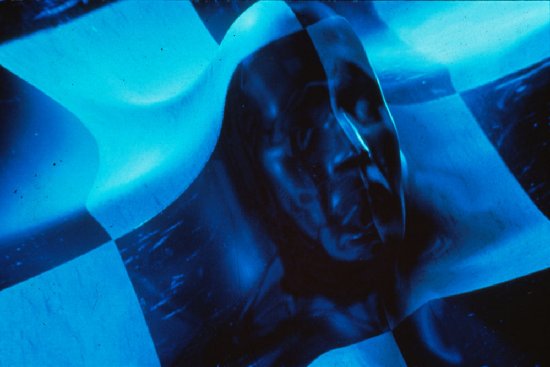 The Picture

It is astonishing how good some old films can look when properly remastered and upgraded to the limits of a 1080p picture.  The T-1000 effects which were groundbreaking at the time still hold up and this has all the hallmarks of a film made in the past few years - I asked someone who hadn't seen the film before to take a look at a bit and guess how old it was.  He guessed 6 years and was gobsmacked when I said "Try 18!"  Effects such as the T-800 shooting the T-1000 in the head and splitting it in half, still look amazing and everything to do with the liquid alloy haven't aged at all. Whereas some of the effects in
Terminator
(where he repairs himself and the stop-motion animation) look dated, this looks as jaw dropping and exciting as anything in
Terminator 3: Rise of the Machines
.   I haven't seen the first Optimum release of
T2
which apparently had a picture that was less than great so I can only imagine that this has been polished slightly as I didn't notice any of the graining issues that many found so disappointing on that disc.   
*The pictures contained in this review are for illustrative purposes only and do not reflect the image quality of the disc.*

The Sound

This has been given a full work-over with a crisp and bombastic DTS-HD MA track which presents the dialogue extremely well and has an immaculate soundstage, whether you are in the Mexican desert listening to the wind sweep around the room or in the Cyberdyne building with the Terminator blowing up doors and destroying all the police vehicles outside.  It can make your room shake whilst taking nothing away from what the characters are saying - it is beautifully balanced and one of the most impressive tracks I've listened to recently.   Of course there is the excellent score and 'du-du..du.. du-dun' motif that has become synonymous with the Terminator films and is, in my opinion anyway, one of the great audio tags in modern cinema.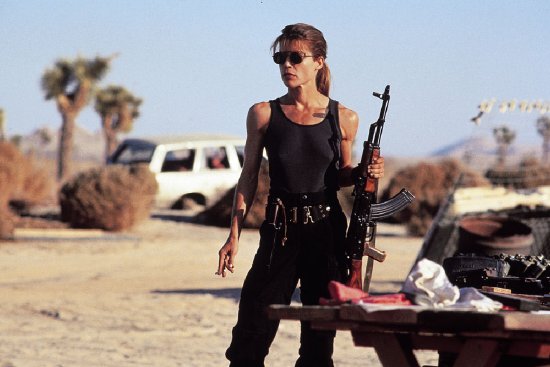 Final Thoughts
This is one of the most celebrated and popular sci-fi/action films ever made with mind boggling special effects, incredible action set pieces and now classic dialogue ("I'll be back", "Hasta la vista, baby").  There have been many different versions on VHS, Laserdisc, DVD and Blu-ray and this gathers them altogether with both the Theatrical Cut and Special Edition and all the various extra features that have been spread around over the years.  If you have been unsure whether to splash out and upgrade to HD, I doubt that a better version will come around and this is as good a package as you'll get.  It looks and sounds great and has all the features you want or need (though it's a shame that nothing new was recorded for a retrospective look).  So, for
T2
fans, this is the one to buy.