Eoin Macken's horror flick The Inside comes to DVD in March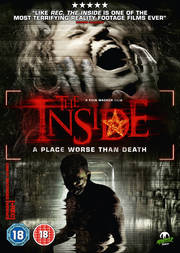 Horror flick time! Always room for another one of those right? Well
Monster Pictures
and
Eureka Entertainment Ltd
think so anyway, as out this coming 25th March is the Eoin Macken written and directed
The Inside
on DVD.
This stars Emmett J. Scanlan of Hollyoaks fame, Tereza Srbova, Sean Stewart, Natalia Kostrzewa and Brian Fortune.
With a runtime of 93 minutes, extras will include a picture-in-picture commentary track with the director, making-of documentary and trailers, whilst the recommended retail price for this one will be £13.27.
While in a pawnshop a young man comes into possession of a second hand video camera; discovering a tape still inside he plays back the footage and witnesses a horrific series of events involving a group of teens in an undisclosed location.

Using the footage as a guide he retraces the steps to where the events seemingly occurred. Deciding to investigate he discovers to his horror not only the truth of the events on the tape but comes face to face with a supernatural terror from which he may not escape.