Fantasy adventure Oblivion Island: Haruka And The Magic Mirror comes to Blu-ray and DVD in March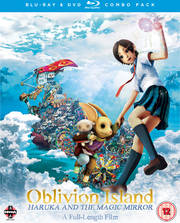 Manga Entertainment
are releasing the Shinsuke Sato directed fantasy adventure
Oblivion Island: Haruka and the Magic Mirror
this coming 25th March on both DVD and Blu-ray.
With voice work from Haruka Ayase of
Cyborg
and
Ichi
fame, and anime regular Miyuki Sawashiro, this will carry a 12 certificate and recommended retail price of £19.99 and £24.99 for the SD and HD versions respectively.
Hopefully those prices will be somewhat lower in the shops! Synopsis and trailer follow...
16-year-old Haruka's mother died when she was young, leaving her a hand mirror as a treasured memento. But as the years pass Haruka forgets about the mirror, which is eventually lost when she moves house. One day while visiting a shrine, Haruka spots a fox-like creature collecting odds and ends. Following it, she finds herself magically transported to the mysterious Oblivion Island, a bustling town where everything is built from people's lost and forgotten belongings.
Here is a chance for Haruka to recover her mother's mirror - but as humans are strictly forbidden from setting foot on the island both our heroine and Teo, the fox spirit she followed, will have to tread carefully. And when they discover that The Baron, Oblivion Island's flamboyantly villainous ruler, also want to get his clutches on the mirror, the adventure is thrown into top gear. Add a trio of inept gangsters, a scene-stealing soft toy sheep and one very stylish airship, and you've got a fast-paced fantasy film that will appeal to the whole family!