Jesus Christ Superstar: The Live Tour on Blu-ray and DVD
Following a triumphant opening weekend at London's 02 Arena, Universal Pictures are delighted to announce that the 21st century re-invention of Tim Rice and Andrew Lloyd Webber's rock opera Jesus Christ Superstar was filmed on 4th and 5th October and will be released on DVD, and Blu-ray on November 19, 2012.
Andrew Lloyd Webber said: "I have waited 42 years for Jesus Christ Superstar to play arenas in the UK, and it is great to finally see the show as it was originally intended, as an arena rock opera. I'm thrilled that Universal have filmed the new arena tour of Jesus Christ Superstar for DVD and Blu-ray, which allows us to capture this amazing production and share it with the world!"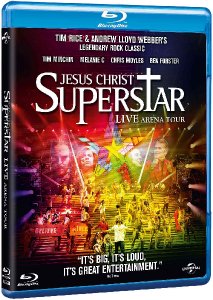 The 21-date arena tour, the first ever in the UK, features a star-studded line-up which includes award-winning musical comedian Tim Minchin – also the co-writer of West End smash musical Matilda – in the role of Judas Iscariot; pop icon and former Spice Girl Melanie C as Mary Magdalene; DJ Chris Moyles in his stage debut as King Herod; and the winner of the ITV show Superstar, Ben Forster, who was chosen by the British public to take on the title role of Jesus. 
Watch a clip below:-  
An award-winning creative team has been assembled to transform this legendary rock musical into a unique, contemporary, state-of-the-art spectacular. Director Laurence Connor, known for his work on the 25th anniversary performances and concerts for Les Miserables and The Phantom of the Opera, works alongside Mark Fisher, the acclaimed world-leading set designer responsible for the staging of the Diamond Jubilee music concert in front of Buckingham Palace, and Patrick Woodroffe who worked on the Opening Ceremony of the London 2012 Olympic Games, to create a conceptual masterpiece.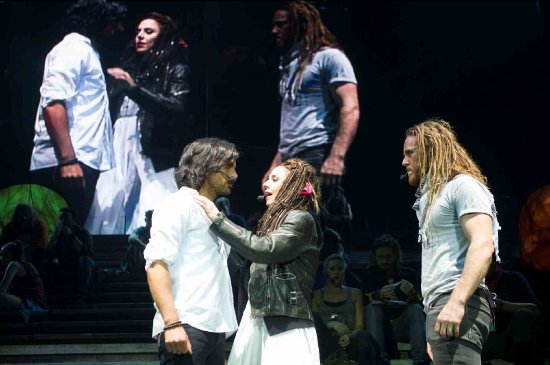 Jesus Christ Superstar is a worldwide phenomenon, portraying the story of the last seven days of Christ leading up to his crucifixion as seen through the eyes of Judas Iscariot, and featuring hit songs such as Superstar, I Don't Know How To Love Him, Heaven On Their Minds and Hosanna. Over 40 different cast recordings have been released in 19 different languages.
The first production of Jesus Christ Superstar was a US arena tour in 1971. It then debuted on Broadway, and, in 1972, UK fans finally got their chance to see this landmark show when it arrived at London's Palace Theatre – its run of eight years and over 3,000 performances smashed all box office records. Since then, Jesus Christ Superstar has rarely left the stage, with professional productions in 42 countries around the world and with around 300 amateur productions officially licensed each year.
The DVD and Blu-ray of Jesus Christ Superstar is released just in time for Christmas on 19th November 2012.