John Bishop Live: The Sunshine Tour comes to DVD, Blu-ray and iTunes this November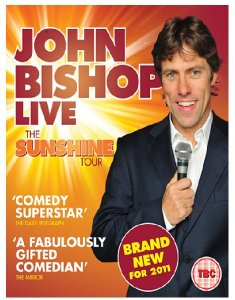 2|entertain by arrangement with Lisa Thomas Management proudly present
JOHN BISHOP LIVE
THE SUNSHINE TOUR
DVD, BLU-RAY AND ITUNES RELEASED MONDAY 14TH NOVEMBER 2011
www.johnbishoponline.com
John Bishop has been enjoying his time in the sunshine, with his phenomenally fast rise to fame. From October 2010 to June 2011, he toured the UK, including arenas (as well as 8 shows at the Liverpool Echo Arena) with the sellout show
Sunshine
performing to over
400,000
people. His debut DVD,
John Bishop Live - The Elvis has left the Building Tour'
, which was released last year, is the
fastest selling debut stand-up DVD ever
. It remains one of the top-sellers of the last year, and is now in the top ten selling stand up DVDs of all time. The show was recently watched by 3m viewers when it was aired on BBC One.
The combination of John Bishop's ability to keep the laughs coming along with his unique brand of observational humour, his undeniable charm and unrivalled gift of creating a relaxed atmosphere means that the feel good factor of spending an evening in his company is absolutely priceless. Now audiences have the opportunity to enjoy that same experience with all the family, in the comfort of their own home, with
John Bishop Live - The Sunshine Tour
released on DVD, Blu-ray and download on 14th November.
In this show John shares anecdotes about the ways in which his life has changed because of fame, he confesses to what his kids really think of him and he explains why this is his time in the sunshine. Exclusive to the DVD and Blu-ray, extra content includes a behind-the-scenes set tour, the making of the Night Fever video and a documentary about the Royal Albert Hall gig.
John explains: " It's been a great journey and the Sunshine Tour gave me a great opportunity to share the joy, fun and madness of the whole experience of the last year."
Recent TV appearances include '
John Bishop's Britain'
(BBC One), series one & two; Series two is currently being broadcast on BBC One, and has been averaging weekly audiences of 6.5 m (including repeats); '
A League of their Own'
(Sky One), '
Michael McIntyre's Comedy Road Show'
(BBC One), '
Live at The Apollo'
(BBC One), guest host on '
Have I got News For You'
(BBC Two).
"Unimprovable" -
Daily Telegraph
"Bishop has funny bones"-
The Times
"Frankly hilarious"-
The Telegraph
"I can't help falling in love with this open, optimistic show"-
Guardian
"A gloriously gifted storyteller"-
Evening Standard
John Bishop Live - The Sunshine Tour is released by 2|entertain on DVD and Blu-ray on 14th November 2011
DVD RRP £20.42, Blu-ray RRP £25.52 Cert. TBC
www.johnbishoponline.com
Twitter
@JohnBishop100