Festival of the Spoken Nerd releases their first live DVD - Full Frontal Nerdity
After five years of sell out shows across the UK, science comedy phenomenon Festival of the Spoken Nerd (Matt Parker, Steve Mould, Helen Arney) are releasing their first live DVD and download. Full Frontal Nerdity is out on 1st July 2015 (DVD £15, Luxury download £8, live show download £5, rated 12+) and available for pre-order NOW at
festivalofthespokennerd.com/shop
Disc One features 100 minutes of FULL FRONTAL NERDITY - LIVE! recorded over two sold-out nights at London's Bloomsbury Theatre. Exponentially entertaining, unashamedly geeky and fearlessly inquisitive, this glorious live DVD is bursting with astonishing experiments, singalong anthems and retro gadgets. From electrocuting gherkins to smashing wine glasses with the power of the human voice and doing things with spreadsheets that are illegal in 17 countries, the Nerds stop at nothing in their pursuit of true Full Frontal Nerdity.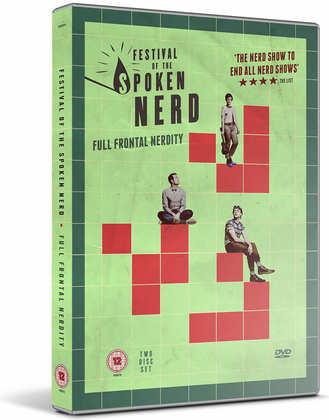 The DVD includes subtitles in English, Binary and Klingon, with more geeky subtitles available. The Nerds have also recorded four alternative soundtracks:
 Director's Commentary - Helen, Matt & Steve take you behind the scenes of making a DVD)
 Director's Commentary of the Director's Commentary - behind the scenes of making a Director's Commentary
 American Language Soundtrack - US pronunciation and all irony fully explained
 Slightly Safer For Schools Soundtrack - all the science but none of the swears
Disc Two features 85 minutes of SPECIALLY FILMED EXTRAS:
 Backstage Nerdity - A peek behind the scenes: What do the nerds really think of each other? What weird backstage rituals do they have? And with all that fire, electricity and broken glass, what could possibly go wrong?
 The Mould Effect Effect - A heart-wrenching and sometimes harrowing documentary about the global effect of The Mould Effect, named after Steve Mould. It's changed his life - will it change yours?
 Three Music Videos - The full animated version of Helen's "Cryonic Love Song", Steve's "Dubstep Beads" and Matt's answer to it: "Dubstep G-G-G-Game Of Liiiiiiiife!"
 PLUS further science behind the experiments in the show with Smoke Ring Smackdown, Helen Smashes It, Steve Gets in a Pickle and Matt Spreadsheets Himself.
The DVD also comes with a 20 page booklet of bonus nerdity featuring extra mind-bending science illusions, a cut-out-and-keep binary translator, singalong lyrics and the best tweets and pictures from the UK tour.
"Great, funny, clever... Even the heckles at this terrific show are smart" - The Scotsman
"Smart and funny... a set of curious scientific facts that are genuinely obscure. The perfect night out for Mythbusters fans, or Brainiac fans who are ready for some actual science." - The Skinny
"A riotously funny show about science... brimming with unashamed geekery" - Three Weeks
"Charm and perky curiosity is in its DNA" – Guardian
"The nerd show to end all nerd shows" - The List
"Harnesses comedy to highlight what is fun – and funny – about science" - New Scientist
Festival of the Spoken Nerd ran a Kickstarter campaign to cover some of the upfront costs of making this DVD. They raised £13,092 – smashing their original £3,500 target and meaning they could film all of these wonderful extras, totaling more than 5 hours of Full Frontal Nerdity in a single package.
Additional subtitles available for download include:
 Morse Code
 Hex
 Alphabetised - subtitles displayed alphabetically
 Pi - letters and numbers replaced by digits of Pi
 Meme - all words anagrammed but with first and last letters left in place
 Missing Vowels - like the most fun round on Only Connect
 Markov chain - all the subtitles are jumbled up but in an order that makes full sentences
All extras also come with English subtitles.
Who are the Spoken Nerds?
STEVE MOULD – experiments guy & TV science expert -
http://www.stevemould.com/
From mind-bending tricks on BBC1′s Britain's Brightest to delving into our scientific heritage in ITV1's I Never Knew That About Britain, Steve describes himself as a jack of all scientific trades and master of none. He is the maker of mathematical curios, creator of illusions and writer of long and overly technical blog posts. Steve has made guest appearances on The One Show, The Alan Titchmarsh Show, Sunday Brunch, Absolute Radio and BBC Radio 5 Live. He was also the Science Presenter on Blue Peter "back in the day" and hasn't stopped going on about it since.
"Beyond nerdy, yet playful and ingeniously funny..." (The List)
MATT PARKER – stand-up mathematician –
http://www.standupmaths.com/
Possibly the only person to hold the prestigious title of London Mathematical Society Popular Lecturer while simultaneously having a sold-out comedy show at the Edinburgh Festival Fringe, Matt is always keen to mix his two passions of mathematics and stand-up. Matt Parker appears regularly to talk about maths on the radio and TV (Discovery's You Have Been Warned, BBC2's James May's Things You Need to Know, Channel 4′s Mating Season and BBC Radio 4's More or Less) as well as being all over the internet. Matt is also the author of Things to Make and Do in the Fourth Dimension (Penguin). His favourite number is currently 3a67a54832.
"Capable of generating big laughs using the deceptively simple power of numbers" (Guardian)
HELEN ARNEY – musical comedian and geek songstress –
http://helenarney.com
Thinking that she'd left her geek past behind after graduating in Physics from Imperial College, Helen proved herself wrong when she turned to writing songs inspired by science. Since touring the UK in Uncaged Monkeys with Robin Ince and Brian Cox, she's popped up on Channel 4, Radio 3, 4, 5Live and 6Music, Stewart Lee's Alternative Comedy Experience on Comedy Central, Coast on BBC2, and performed live everywhere from the Edinburgh Fringe and Hammersmith Apollo to CERN in Geneva and Google's head office in California. Helen also presents science on Discovery Channel's You Have Been Warned and has filled several notebooks with rhymes for Uranus.
"The confidence and clarity of Arney's performance is exceptional" (Telegraph)