Glenn Wool : No Lands Man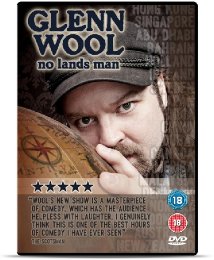 Certificate: 18
Running Time: 80 minutes
Retail Price:
Release Date:
Content Type: Musical Recording
Synopsis:
Glenn Wool has become a man of no fixed address conquering the world one country at a time and has he got some stories for you.

Working his way through India, Singapore, Hong Kong, China, Holland, Dubai, Bahrain, Abu Dhabi, America, Canada, Indonesia, Sweden, Norway, Denmark and Malaysia, he's cracked jokes, got into scrapes with Indonesian customs officers, watched beavers, got too drunk to see Iron Maiden concert in Belgium and everything in-between.

It's the kind of material that has kept him off the likes of the Comedy Roadshow but now is your chance to see one of the world's greatest comedians at his very best. Glenn will have you peeping through the window of his nomadic life, jam-packed with experiences distilled to perfection and poured into a laughter-crammed, sharply intelligent hour of straight-up and honest stand-up comedy. Recorded live at the Leicester Square Theatre.
Special Features: