What's on at Edinburgh 2011 - part one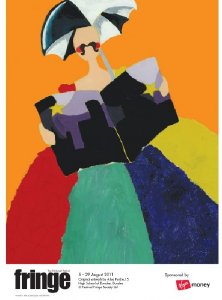 August means it's time for the Edinburgh Fringe Festival, so I thought I'd bring you a 2 part round up of the best comedy acts appearing this year. Part 2 coming tomorrow with any luck!
Alex Horne - Seven Years in the Bathroom - wordplay from Horne, who will also be appearing in the Jazz-based Horne Section too.
Alun Cochrane - Moments of Alun - fresh from being a sidekick on Frank Skinner's Saturday morning Absolute Radio show, Alun Cochrane brings a new show to the fringe. Beautifully observed as ever, and a lovely pace.
Amateur Transplants - just Adam Kay on his own this year, performing very funny and often very rude songs - check them out on YouTube...
Andi Osho - All the Single Ladies - Andi Osho's 2010/11 show was one of the funniest things we've seen this year, if only for her description of badminton. Regular TV exposure on Channel 4's Stand Up for the Week should ensure a sold out run.
Andrew Lawrence - a few TV appearances and a Radio 4 show based on his last Edinburgh show have ensured that more people have begun to here about the odd but excellent Andrew Lawrence.
Andrew Maxwell - having sold out for the last five years, Maxwell is back with a new show which will sell out again. Riotous.
Andy Parsons - Gruntled. Another hour of social and political commentary from the Mock the Week regular.
Andy Zaltzman - Armchair Revolutionary - a new hour of biting satire from the co-host of The Bugle podcast, and the bloke who did the sport on 5 Live's "7 Day Sunday". He is obsessed with cricket.
Arthur Smith's P***** Up Chat Show - another hour of irreverent fun from Fringe Legend and BBC Radio 4 Extra host Arthur Smith.
Ava Vidal - The Hardest Word. A trip around the world in the pursuit of apologies.
The Axis of Awesome - a YouTube sensation and very popular at last year's Fringe, Australian musical comedy.
Barry Cryer - Innit. Comedy legend, Clue stalwart and still great after all these years.
Bridget Christie - Housewife Surrealist. Christie has been heard on the radio a lot, well worth checking out live. Credited by husband Stewart Lee with writing a couple of his best gags!
Adam Buxton's Bug - Buxton plays weird videos and commentates - very popular on the London circuit.
Carl Donnelly - comedy award nominee Donnelly is back for the third year.
Robin Ince - Carl Sagan is my God. Oh, and Richard Feynman too. More rational and science based comedy following on from the sell out Uncaged Monkeys tour earlier this year.
Crag Campbell - after a few years away, a new hour of Canadian comedy.
Jigsaw - featuring Dan Antopolski (triple nominee), Nat Luurtsema and Tom Craine, an hour of madcap sketches.
Daniel Sloss - The Joker. He started his stand up career at 16, has already had a show on the BBC, and is back again with wisdom beyond his years.
Dave Gorman's Powerpoint Presentation - new stand up from Gorman, with the obligatory projector and computer in tow.
David O'Doherty - 2 shows this year from the 2008 award winner, and hopefully some great turns on Never Mind the Buzzcocks will see even more sold out shows for the master of the tiny keyboard and his musical hilarity. Watch out for the return of "My Beefs" - his yearly topical song.
Deborah Frances-White - the self-help comedy show that keeps selling out around the world.
Dr Phil's Rude Health Show - health, wealth and happiness with the practising GP and author.
Ed Byrne - Crowd Pleaser. Another Fringe veteran with another personal show. The man who climbs mountains with water bottles filled with cola.
Ellis James - Do You Remember the First Time? If he can keep to the story without being distracted by audience interaction, expect another amusing hour. Very funny when supporting Isy Suttie on tour earlier this year.
Fred MacAulay - Legally Bald. Another veteran (23 years and counting) - by day he'll be presenting MacAulay and Co on BBC Radio Scotland (a round of up all that's happening along with live performances) and by night he'll be at The Stand with another hour of stand up.
Frisky and Mannish - Pop Centre Plus. Two excellent years at Edinburgh sees this musical duo returning for another hour of brilliantly observed musical comedy. It's a bit like a music lesson and a good laugh all rolled into one.
Gareth Richards - Alun Cochrane's predecessor as sidekick on Frank Skinner's Saturday morning Absolute Radio show returns to the Fringe to tell us that the world won't end in 2012. And he has an omnichord to help convince you.
Helen Keen's Spacetacular - a free fringe highlight and another science based comedy show. Clever, yet accessible.
Henning Wehn - No Surrender. Another great hour for the German comedy ambassador and BBC Radio regular.
Holly Walsh - Hollycopter. If you jump off a pier and break your body, it does mean you have time to write a new stand up show, which is exactly what Holly Walsh did.
Idiots of Ants - a fourth year of wacky sketches after nominations in previous years and a successful show on BBC 7 (now Radio 4 Extra).
Isy Suttie - Pearl and Dave. Born from a song she performed at the end of this year's tour show, the brilliant Isy Suttie now has a new show all about Pearl and Dave and the characters around them. One of the funniest hours of the year from Dobby from Peep Show.
Jason Byrne - Cirque du Byrne. The Sony award winner and Fringe veteran returns for the first 2 weeks with a new show. Joyous.
Jerry Sadowitz - Comedian, Magician, Psychopath. Another fringe veteran, the title says it all.
John Hegley - Family Word Ship. A family friendly hour for another Fringe legend who has a way with words and rhyming couplets.
Jon Richardson - It's Not Me, It's You. Beautiful observations on life as Richardson reads from his new book.
Josh Widdicombe - If This Show Saves One Life - rising star, Leicester Mercury Comedian of the year, definitely one to watch.
Josie Long - The Future is Another Place. The fifth show from Josie Long, and more brilliant observations about the modern world.
Watch out for part 2 of my impromptu guide tomorrow.