Space Elevator
Welcome to a new, real, talented rock band, who know and love music. None of this superficial manufactured stuff - they write the music and perform it in their own way, with power, presence, meaning and passion...
They have only just landed and Malcolm Dome has already said "Space Elevator could just become the most successful hard rock band of the year" in AOR Magazine.
All songs on their album are co-written by lead singer, The Duchess, and guitarist, David  Young. Vocals, guitar, keyboards and rhythm section work in perfect harmony to create a new and distinct sound.
Space Elevator draw inspiration from the greats of the rock world – Kate Bush, Queen, Genesis, Fleetwood Mac – and bring the sound of the 1970s/1980s to the present with a modern twist, in a way that no other rock band has done.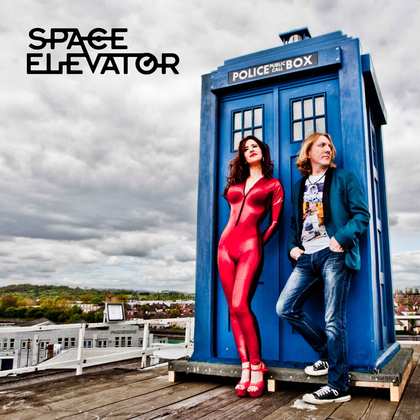 Their first official single "The Loneliness of Love"/"Oils and Bubbles" is
released today 22nd April, on iTunes
. The songs are very different to one another, but both produce a distinct sound and are innovative in style, illustrating the range that this band is capable. The album is out now, catalogue number SECD1/SELP1
Listen to both songs now:-
Loneliness of Love

A real rock song, with a retro 80's sound. It's a dramatic, overblown song with well crafted lyrics – about being in a relationship but feeling totally alone and powerless within it. The instrumental is strong – electric guitar and drums building up to the "loneliness of love" chorus, that the Duchess sings with great anger and passion – she owns this song, representing fantastic woman power. Think REO Speedwagon crossed with Heart.
Oils & Bubbles

A fun, quirky song, that shows the range of this talented band. It's about a woman's obsessive relationship with bubble baths! It's catchy and creates a unique sound, that will very quickly have you singing along. There's a beautiful piano intro, harmonising guitars, and wonderful piano-based verses. The Duchess shows a playful side to her voice and we get the impression that she will keep us guessing over what the style of the next song will be.
You can see Space Elevator live at the following venues:
Wednesday 22nd April, 8pm - The Garage, London (band on stage at 9:30pm)
Saturday 25th April - Railway Inn, Bolton
Thursday 30th April - King Billy, Northampton
Saturday 16th May - Arts4every1, High Wycombe
Watching The Duchess perform with such flamboyant energy and power, you know that you're in the presence of a real artist. Performing only in eye-catching cat suits uniquely designed for her, the Duchess quotes as her influences some of the greatest showmen in the history of Rock, Freddie Mercury, Steven Tyler, Robert Plant and David Coverdale. The Duchess presents a new kind of showwoman, that the world has not yet seen. And not only is she a captivating performer but her vocal range is outstanding both live and recorded.
Space Elevator are:
The Duchess – Lead/Backing Vocals
David Young – Electric/Classical Guitar/Acoustic Guitar
Chas Maguire– Bass Guitar
Elliot Ware – Piano/Keyboards/Hammond Organ
Brian Greene – Drums/Percussion