Bayan Audio StreamPort : a new wireless audio adapter for CD-quality streaming
StreamPort wireless audio adapter is one of the first to use Smart Bluetooth 4 and the newly released apt-X low loss audio codec for CD-quality high performance streaming
Bayan Audio's StreamPort is a tiny wireless audio adapter designed to work with any existing Bayan Audio speaker dock, and is one of the first to use the newly released Smart Bluetooth 4 and apt-X lossless codec.
This innovative combination of technology delivers a wireless audio streaming experience with greater stability, higher quality audio reproduction and wider compatibility with current and future Smartphones, iDevices and other media platforms.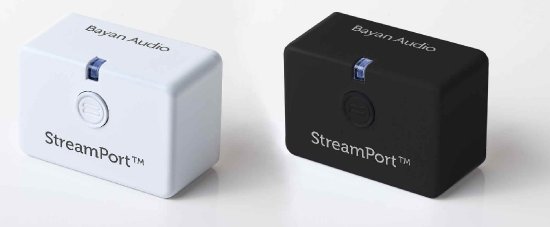 "The StreamPort wireless audio adapter widens the options available to users; they can now experience the full Bayan Audio sound performance without limiting themselves to a single-brand eco system" says Prash Vadgama, CEO of Bayan Audio.
StreamPort can be plugged in and paired to play audio from any source device with A2DP Bluetooth compatibility, such as former and brand new Apple devices (including iPhone 5 and Nano), Android, PC, smartphones and more.
Working uninterrupted for up to 15m away from the source device, StreamPort will give you complete freedom around the home. So, whether you want to tweet in the garden, enjoy movies and games on a tablet whilst blasting the sound through the living room speakers, or simply want to keep your phone close by whilst enjoying an audiobook, StreamPort is a must-have enhancement for any Bayan Audio system.
Bayan Audio StreamPort will be available to buy across the UK from 25th November 2012.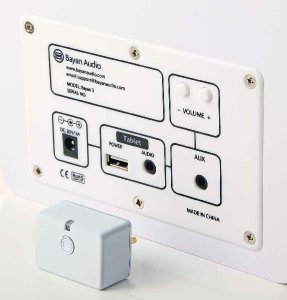 Key Features
* One of the first wireless audio adapters with apt-X lossless audio codec for CD quality streaming
* Supports latest Smart Bluetooth 4.0 technology with A2DP V1.2
* Compatible with any A2DP Bluetooth device including Apple & Android
* Secure Simple pairing for easy synchronisation
* LED status indicator and auto re-connection
* Multipoint Support for simultaneous connection to 2 devices
* Works up to 15m away for uninterrupted freedom
* No extra cables, battery or aerials required
* Available in black or white to match your existing speaker
* Priced at £29.99 inc VAT
* Compatible with any A2DP-Bluetooth enabled device:
The Bayan Audio StreamPort wireless audio adapter will stream audio from any device which is A2DP-Bluetooth compatible, to any Bayan Audio speaker system.
Compatibility includes the newly-announced Apple iPod Touch, Nano and iPhone 5, existing Apple products such as the iPad, iPod touch, iPhone 4, Android-powered tablets, smartphones, notebooks and PCs with A2DP-bluetooth.
Easy to connect and use with Secure Simple Pairing
Designed with the latest technology, StreamPort is extremely quick and easy to use.
StreamPort works with any Bayan speaker, with no extra battery aerials or cables required. Simply connect the tiny wireless audio adapter to the specially designed USB/3.5mm input at the rear of any Bayan speaker.
Once plugged in, Simple Pair effortlessly synchronises the StreamPort in one touch to any A2DP Bluetooth-compatible device.
The intelligent StreamPort also features Auto Reconnect technology. So, when you come back to play your favourite device through your Bayan Audio system, all you need to do is switch on Bluetooth and the StreamPort will automatically remember your device and reconnect.
Bayan Audio StreamPort Technical Specification
Bluetooth Version: 4.0 (pairs with devices back to version 2.1)
Profile: A2DP, AVCRP
Effective Range: 5m (45 feet)
Connects to: Bayan 1, Bayan 3, Bayan 3XL, Bayan 5, Bayan 7 + other Bayan Audio products
Dimensions: 38mm x 26mm x 32mm
Weight: 14.5g
Definitions
A2DP (Advanced Audio Distribution Profile) - this profile defines how high quality audio (stereo or mono) can be streamed from one device to another over a Bluetooth connection.
apt-X - A digital audio data reduction technology consisting of a family of proprietary codec compression algorithms. aptX provides a lossless compression codec to allow the streaming of CD quality audio over a Bluetooth Connection.
Important Note: For near CD quality music streaming you must be using an aptX enabled source device for your music, and ensure that your music has been digitised at a high bit-rate. Bayan Audio recommends bit-rates of at least 320Kbits (Stereo), 48KHz sampling.
Pricing & Availability
The Bayan Audio StreamPort will be available to buy across UK from 25th November 2012.
It will be priced at £29.99 including VAT.
Coming Soon – Bayan StreamPort Universal
Bayan Audio is planning to launch a universal version of the StreamPort wireless audio adapter, which will connect with any audio system (not just Bayan speakers), providing full compatibility across the acoustic board.
The StreamPort Universal is anticipated to launch in early 2013