Audio Pro launches LV1 – the latest addition to its Living wireless Multiroom audio system
Audio Pro, the specialist loudspeaker company from Sweden, is pleased to announce the latest addition to its Living wireless speaker range – LV1. A single stereo speaker with modern Scandinavian style finished in a slim leather-covered design, LV1 uses wireless technology to transmit audio as a peer-to-peer system or as part of a larger Audio Pro Living home network. Available in the UK now in red, white or black leather finishes, LV1 has an SRP of £350.00.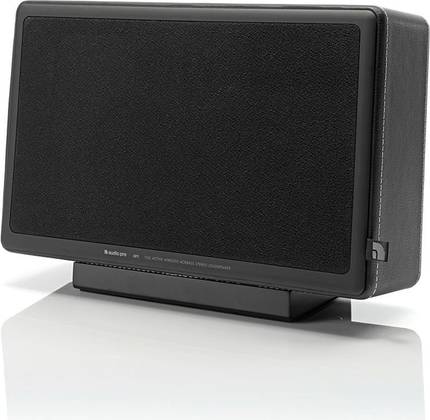 Living LV1 is the smallest speaker in the Living series - an award-winning lifestyle multi-room audio solution based on wireless technology to distribute audio content throughout the home. It's the perfect speaker to either start or expand an existing system as it is easy to place anywhere thanks to its slim and unobtrusive design.
Type: Powered wireless loudspeaker system with DSP and Embracing Sound technology for full CD quality audio network
Amplifier: 4 x 35W digital Class D
Adaptive biquad coefficients for EQ and DRC filters.
Thermal and short-circuit protection.
Tweeter: 2 x 1" soft dome
Woofer: 2 x 3.5"
Frequency range: 50 – 22.000Hz
Crossover frequency (digital): 2000Hz (24dB/octave L/R)
Dimensions HxWxD: 220x300x100 mm
Can be wall mounted
Available with or without TX100 transmitter
Premium sound and design
Living LV1 is a wireless speaker system with the only cable necessary being for power. With its built-in digital amplifier, wireless receiver, DSP (Digital Signal Processing) and digital filters, the LV1 delivers stereo sound from a single box using Audio Pro's 'Embracing Sound' technology. A complete speaker system in one box, LV1 is ready to use in the Audio Pro unique network with full CD-quality. This means you can play FLAC or Apple Lossless files without any compression and you can add as many speakers as you like within range of the transmitter.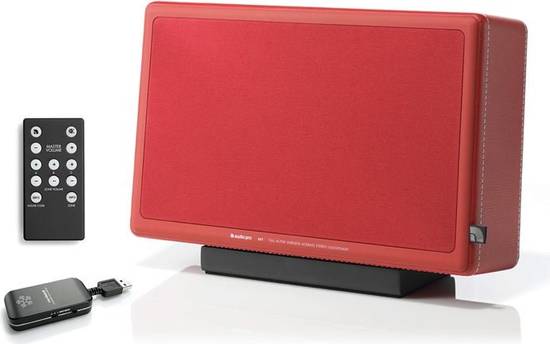 Wireless sound made simple
Just like all speakers in the Living series, LV1 is extremely easy to use. Just plug the USB transmitter into your computer and power up the speaker and you are ready to listen to your music content. True plug n' play, the transmitter can be connected to any audio device with a sound output, such as PC/Mac, iPod/iPhone/iPad dock, cell phone or radio. The included remote control allows the user to set all volume levels throughout the home - master volume of all zones together or individual zone volume.
Unique Network for Best Quality
The Audio Pro Network uses a dedicated, protected protocol in the 2.4 GHz-band for the best possible sound quality. Transmission is achieved at full CD quality, making it possible to play uncompressed formats such as FLAC, Apple Lossless etc. Developed especially for the Living range, a built-in "sniffer" system detects other wireless channels and automatically jumps to free RF (Radio Frequency) channels in order to avoid interference before listening. The system progressively controls the audio bands available, ensuring that the Audio Pro network can coexist with other wireless systems. An additional built-in security filter removes all RF interference from other wireless networks.
"It should be simple to enjoy wireless hifi with quality audio," says Mathias Pantzar, Head of Design at Audio Pro. "The future is about lifestyle and new listening behaviour with the focus on access to content. The computer is central to our music now, and it deserves the best sound possible. LV1 and the other products within the Living range make that possible without any compromise in sound quality".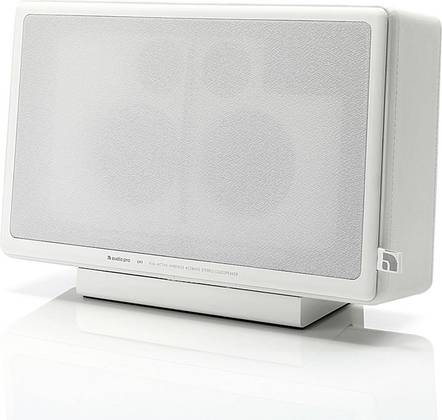 The Audio Pro Living LV1 is available now in the UK in red, black or white leather finishes with the SRP of £350.00


All Audio Pro products can be purchased from specialist retaillers or direct from the dedicated Audio Pro retail website –
http://www.audioprodirect.co.uk/
, which gives customers a 14 day, money back home trial (T&Cs apply – check website for details).