Bayan 7: Power & Purity for Ears
Bayan Audio unveils its premier iPod/iPhone dock with a world-first twin amplifier set-up driving a monster 120W of sound power. 
The unique and contemporary Bayan 7 speaker dock for iPod and iPhone delivers balanced, pure acoustics across an impressively wide frequency spectrum. Effectively squeezing the best out of any audio source it blasts music to a new dimension with superior definition, depth and zero distortion even at high volume. 
Beautifully designed in the UK, the Bayan 7 is built from an efficient combination of quality, organic materials and sound-enhancing components which result in a truly natural soundstage. 
The Bayan 7 demonstrably outperforms far more expensive speaker docks2, with a near-flat frequency range allowing even untrained ears to pick out subtle notes they never knew existed in those all-time favourite tunes.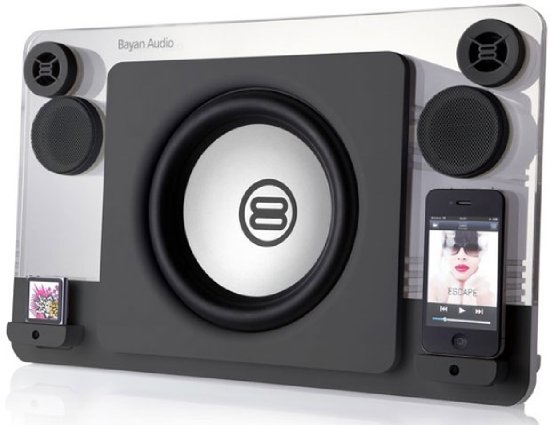 Key Features
 
* 120W sound power output through twin amplifiers
* Dual iPod/ iPhone docking points
* Five way 2.1 channel stereo speaker configuration
* Wide frequency response gets the best from your audio source
* 8" subwoofer for pure deep rich bass
* 12mm solid wood casing for strength and acoustic efficiency
* Natural and realistic soundstage
* Apple certified with support for iPod, iPhone and iPad
* 3.5mm jack to connect other audio sources
* Charge and play functionality (USB at rear for iPad)
* Voice Mode option for audiobooks & podcasts
* IR Remote controller
Whether you're into heavy rock, pop or opera, the choice of speaker can make or break the track. Using a designer combination of high-tech 120W twin amplifier technology and a five-way 2.1 channel speaker configuration  with 8" rumbling subwoofer, 2" mid-range and 1" tweeters the Bayan 7 delivers a winning combination of a near-perfect frequency range, natural sound and loud yet defined audio.
What's more, certified Apple compatibility with Charge & Play functionality offers total peace of mind that your Apple iPhone, iPod or tablet will keep on going for hours of listening pleasure.  
Wide sound with twin amplifiers and 5-way speaker set-up
Amplifier Quality and Configuration:  Twin amplifiers have been carefully engineered to channel complex and broad spectrum sound, delivering a party-pleasing 120W power performance with depth, definition and zero distortion. One amplifier drives four mid/ high-range speakers whilst the second is dedicated to bass output, and both have been built with the highest quality components for the perfect breadth of rich sound. Such premium amplifier technology is usually only seen in products costing upwards of £500 but is integrated into the Bayan 7 and other single-amp products in the Bayan range, ensuring that you can enjoy wide-frequency natural sound reproduction that is noticeably superior to other products with a comparable or even higher price tag.
Five-Way Speaker Combination
A five-way 2.1 channel stereo speaker configuration is comprised of an 8" bass speaker for weighty deep notes, two 2" long throw mid-range drivers (which oscillate over a greater distance to provide increased output) and two 1" wide projection tweeters for tight sharp high-notes (each of which has been framed in metal, not plastic). This powerful combination makes the Bayan 7 delicately tuned to offer superb balance and an authentic soundstage, bringing each note alive and creating a realistic representation of where instruments would be on-stage for a live sense of presence in the room.
Twin Charge and Play ports for hours of listening
Twin Ports
The Bayan 7 features twin ports on the front for docking two Apple iPod or iPhone devices at once, and allow simultaneous charging of both. What's more, family members can switch between songs across both devices without swapping docks or files, so everyone's music taste can be catered for without compromise. 

Charge and Play
In the fast-paced world of today, battery life will be a concern of the past, with handy Charge & Play supported by the Bayan 7. This time-saving feature works not only with the two iPod/ iPhone ports at the front of the device, but also for any iPad/ tablet connected via the rear 3.5mm/ USBA port too.  You can drift away for hours, with the safe knowledge that when you head out the door, the phone or tablet will be fully charged and ready to go.
Natural acoustic-boosting materials and construction quality
Speaker Housing


Unlike flexing plastic, the rigid 12mm solid wood casing offers not just a design edge, but helps to reduce energy dissipation from the speaker (ensuring it is delivered as sound rather than vibration within the enclosure to produce a far more lucid output) and improves the overall efficiency of the speaker drivers to deliver a wider response.
Speaker Quality


The Bayan 7's quality is driven from the roots; fundamental to this is the use of high grade speaker drivers and materials instead of lower cost components that require digitally-enhancing software. Bayan use cast steel speaker frames that enable the drivers to oscillate far more efficiently and ensure minimal energy dissipation, allowing the speakers to produce the widest range of sound that they are designed for with minimum loss. 
This intelligent mix of natural and technical components delivers absorbingly pure audio with a near-flat frequency response. The result is a natural, broad soundstage and refreshing when compared to systems using alternative technologies that result in a synthesised sound, which can prove tiring on the ears.

Control your music with IR remote and music profiles
Alongside an acoustic experience which delivers your favourite feel-good tracks with full force and emotion, the Bayan also provides a flexible and easy-to-control way to manage your song choices.
IR Remote
All Bayan products bundle a IR remote control as standard, which offers full control from the comfort of your favourite listening spot, including track control (play, pause, skip), volume control and mute, adjustment for bass/ treble and the option to put the unit into standby mode simply by lifting a finger.
Voice mode


The Bayan 7 allows you to switch from Music to Voice mode, an intelligent option which delivers perfect clarity and more pronounced voice whilst listening to audiobooks, podcasts or radio. The power indicator on the top of the unit will change colour to ensure it is always clear which setting has been selected.
Environmentally-friendly materials add green luxury


Colour


Available in slick black or brilliant white and housed within stunning solid wood, the Bayan 7 promises a contemporary touch for any room inside the home.
Materials


Each product in the Bayan range has been designed not just for keen ears, but with the environment in mind too. Eco-friendly materials are used where possible for internal components (all lead-free), so the Bayan range uses much less plastic than many competitors. This green approach runs through every aspect right down to the product packaging, which has been constructed from recyclable card. Even traditional polythene has been replaced by recycled cloth bags for a hint of green luxury.
Apple certified with support for a host of audio devices
Bayan is an Apple licensed partner, and all systems used to connect Apple devices use authentic Apple parts including certain control components, and the finished product has been tested and certified to Apple standards. 
What's more, the Bayan 7 has been approved with Apple's stringent TDMA Noise Rejection tests, promising stable listening which won't be interrupted by any irritating buzzing caused by interference from mobile phones and other radio transmitters when in use. 
The Bayan 7 is thoughtfully designed to be compatible with a whole host of audio devices, including:
 Docking through each of the two front connections:
* Apple iPod
* Apple iPhone 
Connection via USBA/3.5mm socket tucked neatly away to the rear:
* Apple iPad
* Tablet computers
* Smartphones
* MP3/MP4 players
* Laptops/PC/Netbooks
* CD/DVD Players 
This well-known seal of approval and extensive compatibility with a range of devices means you can rest assured and take maximum confidence in the quality and reliability of the versatile Bayan range.
Pricing and Availability


The Bayan 7 is £299 inc VAT RRP, and is available from 
www.bayanaudio.com
.