Back-up Photos and Music without a computer with PlexEasy
Plextor have announced the UK release of the PlexEasy (PX-650US) - a unique DVD/CD writer which lets users transfer and back-up data without the need for a computer.
First unveiled in December 2011, the PlexEasy expands on Plextor's high quality optical storage portfolio and is designed to be "Easy, intuitive and compatible". The versatile device combines a compact 8x DVD/CD writer with a built-in SD/MMC card reader and USB port, allowing users to transfer and create backups from data stored on memory card or directly from devices such as tablets, smartphones, hard disks, flash drives, camcorders, or digital cameras.
The intuitive PlexEasy integrates a compact 8x DVD writer alongside a built-in SD card reader and USB port which allows users to create direct backups from data that is stored on SD Cards or on digital devices such as tablets, smartphones, hard disks, flash drives, camcorders, and digital cameras -even without a PC connection.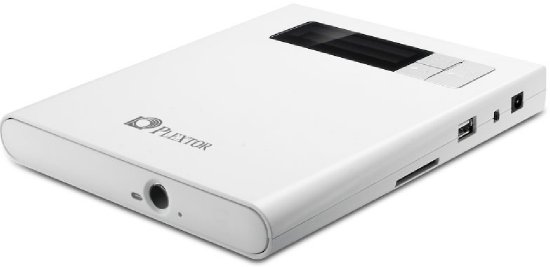 Transfer and Back-up data from digital devices - without a PC
The PlexEasy is compatible with mass storage devices, connecting via USB to MP3 players, flash drives and external hard disks. Users can transfer files from an SD/MMC card onto another storage device in addition to burning data from both mediums directly onto DVD/CD.
Additional support is provided for Picture Transfer Protocol (PTP), an image transfer technology integrated into most models of cameras and smartphones. This intelligent feature allows users to back-up photos straight from their camera (point-and-shoot or DSLR) or smartphone (iOS, Android, Blackberry etc).
The clever part is that backing up and file transfers on the PlexEasy can be done entirely without the need for a computer connection. Combined with a slim, lightweight and highly portable package, the PlexEasy offers a space saving, luggage-friendly solution to keeping files safe whether at home, in the office or away on travels.
Intuitive design and technology for simple, fuss-free back-ups


Simplicity has been a key focus for Plextor in the development of PlexEasy, which features a user-centric design and is controlled directly by buttons located on the top. When connecting the source device where the original files to back-up are stored, PlexEasy will even automatically present the logical destination medium to transfer files to. So, with just a simple touch invaluable memories can be stored safely or shared with friends and loved ones. Users can even check the status of their transfers using the integrated LCD screen.

Connect to a PC for fully functional DVD burner mode


Building upon Plextor's prestigious optical drive technology, the PlexEasy can also be connected to a PC or notebook, offering the full functionality of a high-end external DVD burner and delivering benefits even to advanced computer users with 8x writing speed and support for all types of CDs and DVDs. 
When using the PlexEasy alongside a notebook or PC, users won't need to worry about additional power cables as the drive will draw its power from the USB ports using the USB Y-Cable (included in the package). In standalone mode, the device is powered with a 5V /2A AC/DC adapter.
Pricing & Warranty


Plextor offers 2 years of 'Fast Warranty Service' in the EU, Norway and Switzerland for the PlexEasy (and 1 year carry-in in other countries).
The PlexEasy (PX-650US) is available now for around £90 inc VAT.
PlexEasy Specifications (PX-650US)
* Direct backing up USB storage device
* Direct burning photos & videos
* Built-in SD Card reader (SD/MMC slot)
* 8x slim DVD / CD Re-Writable Burner
* Compatible with:
o CD and DVD media
o USB Flash drives
o External hard disk
o SD cards (SDHC class 2,4,6) and MMC
o Most digital cameras & camcorders
o Tablet PC and smartphone (IOS & Android)
* Monochrome LCD, English Supported
* Type A USB 2.0 port
* Mini B USB 2.0 port (for PC mode)
* 5V/2A DC Jack
* Power Supply: AC/DC Adaptor (100V~240V) Output 5V/2A
* Dimensions: 142x182x21 mm (WxLxH)
* Weight (without adaptor): 385g