Martin Freeman stars in comedy Swinging with the Finkels out on DVD this April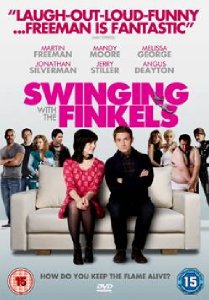 Swinging with the Finkels
COMING TO DVD 2 APRIL 2012
DIRECTED BY
Jonathan Newman
STARRING
Martin Freeman
,
Mandy Moore
,
Melissa George
,
Jonathan Silverman
,
Jerry Stiller, Angus Deayton
HOW DO YOU KEEP THE FLAME ALIVE?
SWINGING WITH THE FINKELS
tells the story of Alvin and Ellie Finkel, played by British comedy favourite
Martin Freeman
(THE OFFICE, SHERLOCK, THE HOBBIT) and US film, music and TV star
Mandy Moore
(LICENSE TO WED, TANGLED); a London couple at breaking point in their marriage. Do they stay together and continue down an increasingly stale path, or should they attempt to relight the flame that they are both missing? Would sex toys be the answer? Will dressing up and role play help spice things up? Or should they indulge in the ultimate marriage scruple of wife swapping? Alvin and Ellie are about to discover whether swinging is the answer to their marital problems...
This hilarious film from the producer of BEND IT LIKE BECKHAM also stars
Melissa George
(30 DAYS OF NIGHT, TRIANGLE), US comedy legends
Jonathan Silverman
(WEEKEND AT BERNIE'S) and
Jerry Stiller
(ZOOLANDER) and British TV comedy stars
Angus Deayton
(HAVE I GOT NEWS FOR YOU),
Daisy Beaumont
(STAR STORIES) and
Louis Spence
- star of PINEAPPLE DANCE STUDIOS.
Swing into your nearest DVD store when
SWINGING WITH THE FINKELS is released 2 April
.
Running Time: 85mins
Cat No: G2P070
Barcode: 5060255690901
RRP: £15.99
Extras: Trailer