ITV roman comedy Plebs comes to DVD and Blu-ray in April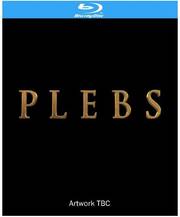 For many years ITV was the poor relation to the BBC when it came to period drama, and then suddenly
Downton Abbey
appeared and changed all that. Now it looks like they are hoping to do the same with comedy, so often the preserve of BBC and Channel 4.
Turning up on 29th April courtesy of
Universal Home Entertainment
is a brand new comedy airing on ITV2,
Plebs
, arriving on both Blu-ray and DVD.
This stars Tom Rosenthal, Joel Fry, Ryan Sampson, Doon Mackichan, Lydia Rose Bewley, Sophie Colquhoun and what every new sitcom needs, a guest appearance from Danny Dyer.
Extras will include a behind the scenes featurette,
The Ultimate Pleb
Test,
The Look of Plebs
featurette and outtakes, whilst the recommended retail price will be £19.99 for the DVD and £24.99 for the Blu-ray.
The series follows three desperate young men from the suburbs as they try to get laid, hold down jobs and climb the social ladder in the big city, a city that just happens to be Ancient Rome.
Marcus and Stylax are accompanied by their lazy slave with an attitude problem, Grumio, and think a slap up meal starts with a trip to the compost heap. The boys' ruthless boss is Flavia, an expert manipulator with a private life that's the stuff of legend.
From orgy etiquette to being bashful down the bathhouse, this is Ancient Rome like you've never seen it before. And while the lads may don skimpy tunics instead of skinny jeans, the story of boys on the hunt for love and lust is timeless.
Providing the glamour factor are Cynthia and Metella, who are new in town from Britain and pretty fit. No wonder the unlikely lads dub them the Fitons as they pursue them.