The Belles of St Trinian's: 60th Anniversary Edition comes to Blu-ray and DVD this April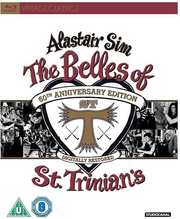 Fans of classic black and white features will be thrilled to see what
StudioCanal
have coming their way on 28th April. Arriving on both Blu-ray and DVD is
The Belles of St Trinian's: 60th Anniversary Edition
.
Directed by Frank Launder and written by Launder with Sidney Gilliat, this stars Alistair Sim, Joyce Grenfell, George Cole and Beryl Reid. This will feature a fully restored HD transfer in its original 1.66:1 aspect ratio and mono soundtrack.
With brand new extras that include interviews with Sim's daughter Merlith McKendrick, film historian Geoff Brown, Professor of British Cinema at De Montfort University Steve Chibnall, and Melanie Williams, Senior Lecturer in Film Studies UEA, it also has The Girls of St Trinian's featurette.
Expect a recommended retail price of £17.99 for the SD release and £22.99 for the HD version.
Synopsis and clip follow...
This comedy is set in the fictional St Trinian's School. The unruly schoolgirls of St. Trinian's are more interested in men and mischief than homework and hockey.
But greater trouble beckons at the school when the arrival of Princess Fatima of Makyad coincides with the return of recently expelled Arabella Fritton, who has kidnap on her mind.