Carmen Electra stars in comedy Mardi Gras: Spring Break out on DVD this April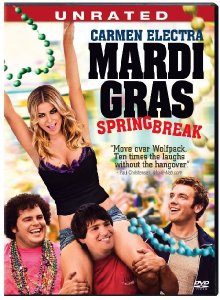 Boobs, Beads and Brews. What Could Go Wrong?
MARDI GRAS: SPRING BREAK
Carmen Electra Stars with Nicholas D'Agosto, Bret Harrison
and Josh Gad in the Year's Most Outrageous Comedy
Debuting on DVD and Digital Download on April 30
London, UK. 10.02.12
-
Get ready for the most outrageous and hilarious comedy trip when
Mardi Gras: Spring Break
debuts on DVD and Digital Download on April 30from Sony Pictures Home Entertainment. The film follows three undersexed college guys as they experience the wild, no-holds-barred fun of New Orleans' biggest party.
Mardi Gras: Spring Break
stars sex icon Carmen Electra (
Scary Movie 4
,
Disaster Movie
), Nicholas D'Agosto (
Final Destination 5
, TV's "Heroes"), Bret Harrison (TV's "V," "Breaking In"), Josh Gad (
Love and Other Drugs,
Broadway's "The Book of Mormon"), Danneel Harris (
The Roommate
, TV's "Friends with Benefits," "One Tree Hill") and Regina Hall (TV's "Law & Order: LA"). Packed with wet t-shirts and hilarious, raunchy humour,
Mardi Gras: Spring Break
is the must-have DVD for comedy fans and will be available for £12.99 RRP.
Synopsis:
For three college guys, it's senior year and the co-ed experience has left them high and dry. Their solution: a road trip to Mardi Gras, where beautiful babes are happy to lift their shirts and open containers are always welcome. But after dressing in drag, breaking into Carmen Electra's hotel room, starring in a scandalous sex show and accidentally exploding a faeces bomb in a swanky hotel lobby, will the Mardi Gras magic kick in and their wildest fantasies come true?
Mardi Gras: Spring Break
will be available exclusively in ASDA stores and to rent or own on digital services. It has a running time of 85 minutes and is rated 15.
PRODUCT INFORMATION
TITLE
MARDI GRAS: SPRING BREAK
Release Date 30 April 2012
Format DVD RRP
DVD: £12.99
Certificate 15
Genre Comedy
Running Time DVD: 85mins
Pricing and bonus features on Digital editions of
Mardi Gras: Spring Break
may vary by service provider.