Downhill Thrills! Deep Winter on DVD on 17th October from Chelsea Films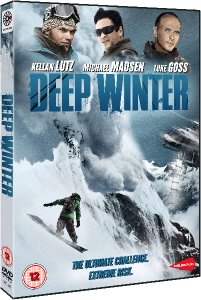 "AN ENTERTAINING SPECTACLE SPORTING SOME JAW-DROPPING DOWNHILL FOOTAGE… I CAN'T SAY ENOUGH ABOUT HOW AWESOME THE SKIING AND SNOWBOARDING IS IN THIS MOVIE… FANTASTIC." - DVD VERDICT.
Breathtaking scenery shot on location in Alaska, Utah and the Austrian Alps provides the perfect backdrop for spectacular extreme sports action in Deep Winter, which sees two 20-something buddies - a world-class skier and a professional poster-boy snowboarder - risking it all when they take on the biggest sporting challenge of their lives.
Hot rising young stars
Kellan Lutz
(the Twilight movies; A Nightmare On Elm Street; 90210),
Eric Lively
(The Butterfly Effect 2; The Breed; The L Word) and
Peyton List
(Mad Men; FlashForward) are joined by former Bros star
Luke Goss
(Hellboy II: The Golden Army) and Hollywood veterans
Michael Madsen
(Kill Bill) and
Robert Carradine
(The Revenge Of The Nerds movies) in an involving story of loyalty, friendship and courage that Film Critics United rated as having "amazing photography… [and] some of the best stunt skiing you'll ever see."
Renegade downhill skier Tyler Crowe (Lively) and his best friend since childhood snowboarder Mark Rider (Lutz) may adopt different methods of descent but they're both addicted to the rush of living on the edge and making a perfect run in seemingly impossible conditions. Reunited for the first time in years following Tyler's recent undignified departure from his ski team, the pair set their sights on making history by conquering a legendarily unrideable mountain known as "The Meteorite" and catching it all on film for extreme sports video producer Stephen Weaks (Goss). On hand to assist them is helicopter pilot and veteran mountain guide Dean (Madsen), whose former partner was killed making his own attempt to descend the notorious peak. As the day of reckoning approaches, tensions arise and the friends' plans are jeopardized when Mark learns that Tyler has started dating his younger sister, Elisa (List), behind his back and the ensuing argument results in Tyler leaving the project. Then, out of the blue, tragedy strikes…
Directed by
Mikey Hilb
(Dishdogz),
Deep Winter
adds the warmth of human drama to a thrilling tale of two young men willing to take on the chilling and unforgiving forces of nature in their bid for sporting glory.
Deep Winter
(cert. 12) will be released on
DVD
(£12.99) by
Chelsea Films
on
17th October 2011
.
You can now enjoy the
trailer.