20th Anniversary edition of The Doors comes to Blu-ray in April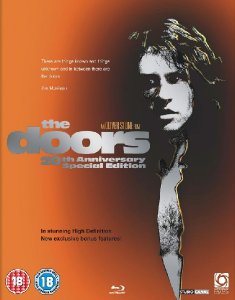 From the director of

JFK, Wall Street
& Natural Born Killers
THE DOORS
20th Anniversary
Starring Jim Morrison, Meg Ryan,
Kevin Dillon, Kyle Maclachlan, Frank Waley, Michael Madsen, Billy Idol & Kathleen Quinlan
Out To Own On Blu-ray 18th April 2011
Music by The Doors
Written by J. Randal Johnson & Oliver Stone
Directed by Oliver Stone
2011 is the 40th Anniversary of the death of legendary Doors front man Jim Morrison. With their legend intact and music as popular as ever,
THE DOORS
has been restored and is released here for the first time on blu-ray. Oliver Stone's epic portrayal of the hugely influential 1960's rock band and its charismatic, controversial lead singer and composer, Jim Morrison, features Val Kilmer in a career-defining role and also stars Meg Ryan, Kyle MacLachlan, Billy Idol and Michael Madsen. Featuring music from The Doors themselves and electrifying recreations of their most infamous on-stage performances, Stone captures perfectly the tumultuous, psychedelic journey of one of the late 60s' most exciting and influential bands.
The Doors were a distillation of their time. The music they made was raw yet poetic, angry yet seductive. The stage show at its best was dramatic, brilliant theatre - artistic expression transcending all form. Jim Morrison's sensual stage presence, charged with strength and energy, capable of projecting a sense of danger, spoke to young audiences' fantasies and became a catalyst for an era. Their songs have kept The Doors in that rare pantheon of groups whose music evokes the memory of the turbulent '60's and continues to make fans not only of those who lived during that time but also of following generations as well.
Extras:
· Jim Morrison, a poet in Paris
· Back to the roots
Blu-ray tech specs:
Cert: 18 / Region B / Total Running Time: 140 mins approx / Colour PAL / Feature Aspect Ratio: 2.35:1 / Video: BD50 / 1080"24p / Feature Audio: English DTS HD Master 2.0 / English Language / Catalogue No: OPTBD1402 / RRP: £24.99