The Doors: Special Edition (UK)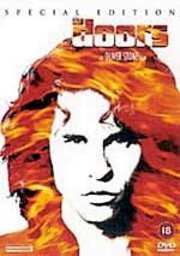 The Ultimate Story of Sex, Drugs & Rock `N` Roll
Certificate: 18
Running Time: 0 mins
Retail Price: £19.99
Release Date:
Content Type: Movie
Synopsis:
The movie features a `tour de force` performance by Val Kilmer, who not only bears a striking resemblance to Morrison, but also sounds so much like him that he did much of his own singing in the film. It has actually been written that even some of the remaining Doors members had trouble distinguishing Kilmer`s vocals from Morrison`s originals.
The Doors, which provides a fantastic pastiche of the `flower power` era and the `summer of love`, also serves as a biography of Jim Morrison, who in spite of his untimely death in Paris in 1971, remains as much of a rock icon today as during his lifetime - his grave at the Pere Lachaise Cemetary in Paris has become a true shrine. Additionally, Stone`s direction employs the use of so many psychedelic special effects that The Doors truly transports the viewer back to the sixties creating an almost `virtual` experience.

Starring alongside Kilmer are Kyle MacLachan as Manzarek, Kathleen Quinlan as rock journalist Patricia Kennealy, Meg Ryan as Morrison`s hippie-chick girlfriend Pamela, Paul Rothchild as Michael Wincott, Frank Whaley as Robby Krieger, and Kevin Dillon as John Densmore. Seventies rock star Billy Idol also makes a cameo appearance in the movie as Cat - his role was originally much bigger but prior to filming Idol was injured in a motorcycle accident that left him seriously injured - when he does appear he is either on crutches or sitting down.

The Doors also includes all the classic music that is synonymous with the Doors, during the height of their career which, interestingly, only lasted for 6 years from 1965 - 1971 in spite of the group`s continuing legendary status. The movie soundtrack features Riders On The Storm, Break On Through, Light My Fire and many more compelling tracks.
Special Features:
Audio Commentary by Oliver Stone
Behind the Scenes
Making Of
Direct Access to 19 songs from the movie
Teasers
Interview/Personal Profile with Oliver Stone and Val Kilmer
Additional interviews with Meg Ryan, Kyle MacLachlan, Frank Whaley, Kevin Dillon and Paul Rothchild

Related Websites:
,

Video Tracks:
Widescreen Anamorphic 2.35:1

Audio Tracks:
Dolby Digital 5.1 English

Directed By:
Oliver Stone

Written By:
Oliver Stone
Randall Jahnson

Starring:
Josh Evans
Michael Madsen
Michael Wincott
Kathleen Quinlan
Val Kilmer

Casting By:
Billy Hopkins
Risa Bramon Garcia

Soundtrack By:
Carl Orff
Jim Morrison
Ray Manzarek
Robby Krieger
John Densmore

Director of Photography:
Robert Richardson

Editor:
Joe Hutshing
David Brenner

Costume Designer:
Marlene Stewart

Production Designer:
Barbara Ling

Producer:
Clayton Townsend
Joseph P. Reidy
A. Kitman Ho
Sasha Harari
Bill Graham

Executive Producer:
Mario Kassar
Brian Grazer

Distributor:
Momentum Pictures