Fast paced thriller Blood Out comes to Blu-ray and DVD this September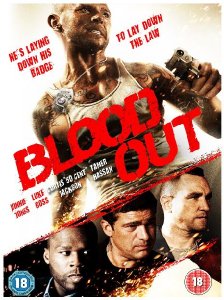 DVD and Blu-ray release 26th September 2011
BLOOD OUT
[blʌd aʊt]
Street Slang.
Mexican Mafia motto: To blood out is a requirement to leave a gang; To join (blood in) you must kill someone. The only way to leave (blood out) means to be killed yourself.
He's laying down his badge to lay down the law…
LUKE GOSS (
Death Race 2
), TAMER HASSAN (
Clash of the Titans
), CURTIS "50 CENT" JACKSON and VINNIE JONES (
X-Men 3
) star in this fast paced thriller on the streets of gangland America where an undercover ex-cop goes to extreme lengths in his fight for justice.
BLOOD OUT
is on DVD and Blu-ray from 26th September.
Small town sheriff Savion (Luke Goss) lays down his badge to avenge his brother's murder. Little brother David was a small-time hood in a big-time gang; killed for wanting out so that he could marry his girl. Obsessed with discovering the truth, Savion leaves his meth-riddled home ground near Baltimore and infiltrates the gang. His rise amongst the ranks is fast and furious. Too late he realises he's in way too deep. Now, he's at the ultimate crossroads - is it Blood Out time for Savion too?
BLOOD OUT
DVD & Blu-ray details:
Cert 18
RRP DVD / BD £15.99 / £17.99
Audio Dolby Digital 5.1 Surround
Aspect Ratio Anamorphic 1.78:1
Run Time 85 Minutes
Subtitles English for the Hearing Impaired