25th Anniversary Edition of Platoon hits Blu-ray this May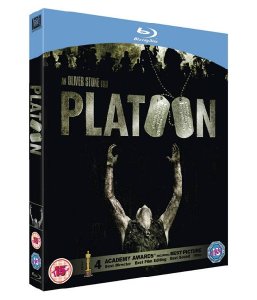 MGM & Twentieth Century Fox Home Entertainment are proud to announce
Platoon
25th Anniversary Edition
Directed by
Oliver Stone
Available to own for the first time on Blu-ray from
the 16th May 2011
Being released in time for Father's Day, Platoon would make the perfect gift!
Starring Charlie Sheen, Tom Berenger, William Dafoe,
Forest Whitaker & Johnny Depp
Winner of four Academy Awards, including Best Picture and Director, this harrowingly realistic war film (based on director Oliver Stone's firsthand experience of the Vietnam Ware) arrives on Blu-ray for the first time in this 25th Anniversary Edition - loaded with explosive extras that take you to the front lines of movie making. Platoon is a powerful, riveting and starkly brutal tale of an American soldier's descent into the chaos and horror or the Vietnam War
This new Blu-ray release has 3 Vignettes which were previously only included in the US DVD release
Synopsis
Chris Taylor is a young, naive American who gives up college and volunteers for combat in Vietnam. Upon arrival, he quickly discovers that his presence is quite nonessential, and is considered insignificant to the other soldiers, as he has not fought for as long as the rest of them and felt the effects of combat. Chris has two non-commissioned officers, the ill-tempered and indestructible Staff Sergeant Robert Barnes and the more pleasant and cooperative Sergeant Elias Grodin. A line is drawn between the two NCOs and a number of men in the platoon when an illegal killing occurs during a village raid. As the war continues, Chris himself draws towards psychological meltdown. And as he struggles for survival, he soon realizes he is fighting two battles, the conflict with the enemy and the conflict between the men within his platoon. Two veteran sergeants clash when one of them precipitates a massacre of villagers
Blu-ray Contents
Audio Commentary by Oliver Stone
Audio Commentary by Military Advisor Dale Dye
Deleted and Extended Scenes with Directors Commentary
Flashback to Platoon: Snapshot in Time: 1967-1968
Flashback to Platoon: Creating the 'Nam
Flashback to Platoon: Raw Wounds: The Legacy of Platoon
One War Many Stories, Preparing for 'Nam
Vignettes: Caputo & the 7thFleet, Dye Training Method & Gordon Gekko
Television Spot: Action,: Critical Acclaim,: The Director
Theatrical Trailer
Blu-ray Specifications
RRP Price: £19.99
Barcode: 1588307000
Certificate: 15 TBC
Running time: 120mins
Platoon
is distributed by MGM & Twentieth Century Fox Home Entertainment and is available from all good DVD stockists from 16th May 2011.