Anime Review Roundup
The MCM Expo Is Back Again
Let's begin today with a public service announcement. It's that time of year again, when the MCM Expo is imminent. It's the gathering for fans of cult TV, movies, and anime and manga of course, along with much, much more. It takes place on the weekend of the 29th of May in London, at the Excel Centre as always. You can read more about it at the
official website
. Expect lots of juicy anime news.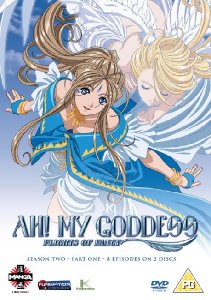 Last week saw two anime releases reviewed, and the first was one that is long overdue in the UK. Ah My Goddess: Flights of Fancy is the second full length television series chronicling the lives of eternal loser Keiichi Morisato, and his goddess girlfriend Belldandy. ADV had even released the first volume of it two years ago, but we all know what happened to them. AMG: S2 now becomes the second ADV title to be rescued by Manga Entertainment following Guyver: The Bioboosted Armour, and by clicking on my review for
Ah! My Goddess: Series 2 - Flights of Fancy Part 1
you can find out if it's been worth the wait.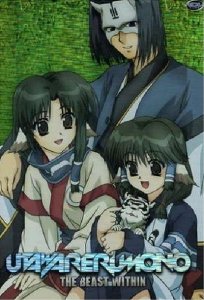 The anime week concluded with my regular visit to the world of Utawarerumono. When you get to the penultimate volume of a show, you expect an impetus towards resolution, revelations in the plot, character arcs winding up, with fewer mysteries and a stronger focus in the story. There's none of that in
Utawarerumono: Volume 5
, as the show just gets weirder, the pace speeds up, and even wilder concepts and ideas are introduced. Click on my review to see if this is actually a good thing.
Ah My Goddess: Series 2 - Flights of Fancy Part 1 is released by Manga Entertainment today. ADV released Utawarerumono; Volume 5 a couple of years ago in the US, and not long after in the UK.