Spaghetti western Keoma arrives in January on DVD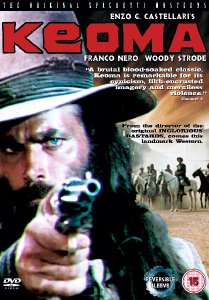 Keoma
Cat No:
AGTD012
Barcode:
5060062910124
Release Date: 
11th January 2010
Cert:
15
Running Time:
97 min approx
•

"Director Enzo Castellari is one of Quentin Tarantino's heroes
"
The Observer
• "It's Castellari's best work …" Alex Cox
• "A brutal blood-soaked classic, Keoma is remarkable for its cynicism, filth-encrusted imagery and merciless violence."
Channel 4
•
"One of the greatest Spaghetti Westerns of all time"
Cinema-nocturna.com
SYNOPSIS
This seminal masterpiece stars Franco Nero (Die Hard 2, Django) as Keoma, a gunslinger, who on his return to his hometown finds it is now ruled by Caldwell, a sadistic local villain. To make matters worse, Keoma discovers his half brothers have joined Caldwell's evil gang.
Intent on restoring law and order, Keoma, aided by his childhood friend, the banjo-playing drunk (Woody Strode), has to fight this horde of ruthless killers to the bitter deadly end.
Extras
* Exclusive in-depth presented by acclaimed filmmaker
Alex Cox
(Repo Man, Sid And Nancy) in the style of his epoch-making
Moviedrome
BBC series.
* Exclusive interview with director Enzo G. Castellari.
"..
an exceptionally good 15 min interview with

Castellari
"
DVD Times       
* Theatrical trailer  
* Trailers for other Argent Westerns, the best of the non-Leone movies and extreme in every way.