The Young Victoria out on DVD in July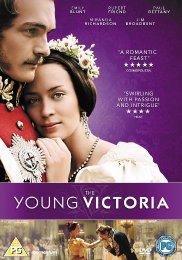 The Young Victoria
is a truly engaging and immensely enjoyable royal romance that features first rate casting and fine acting from an outstanding ensemble British cast headed by Golden Globe winner
Emily Blunt
(
The Devil Wears Prada
),
Rupert Friend
(
Pride and Prejudice, The Boy in the Striped Pyjamas
),
Paul Bettany
(
The Da Vinci Code
),
Miranda Richardson
(
Harry Potter and the Goblet of Fire
),
Jim Broadbent
(
Indiana
Jones and the Kingdom of the Crystal Skull
),
Mark Strong
(
Body of Lies
),
Harriet Walter
(
Sense and Sensibility, Atonement
),
Thomas Kretschmann
(
King Kong, Downfall
),
Jesper Christensen
(
Casino Royale
),
Michael Maloney
(
Babel
) and
Julian Glover
(
Troy
). 
Set for DVD release on
13 July 2009
by
Momentum Pictures
,
The Young Victoria
also features an all-star production team headed by Academy Award® winning screenplay writer
Julian Fellowes
(
Gosford Park
), Academy Award® winning producers
Martin Scorsese
(
The Departed, The Aviator, Gangs of New York
) and
Graham King
(
The Departed, The Aviator, Blood
Diamond) along with
Tim Headington
(
Edge of
Darkness).  Adding the all important royal connection is
Sarah Ferguson
,
The Duchess of York
, whose idea it was to bring the story of Queen Victoria's early life to the screen.  Directed by the renowned
Jean Marc Vallée
(
Black List, C.R.A.Z.Y
),
The Young Victoria
is a tour de force recreation of a largely unknown yet fascinating period of British history. 
Featuring an on-screen partnership between Blunt and Friend that fairly sizzles with sexual chemistry,
The Young Victoria
provides a truly intriguing insight into Victoria's early years, succession to the throne and marriage to the love of her life, Prince Albert.  Originally despatched by the power-hungry King Leopold of Belgium as a lure for the young princess at a time when she was a priceless political prize, Albert soon fell in love with the independent-minded young woman, and the seal was set for the ultimate historical romance. 
Awash with sumptuous settings and delightful costumes, this irresistible love story featuring such an outstanding cast
will undoubtedly be crowned the home entertainment triumph of the summer.
Extra Features:

The Real Queen Victoria 
Deleted Scenes
Trailer
Behind the scenes featurettes: The Coronation, The Wedding, Making of The Young Victoria, Lavish History: A Look at the Costumes and Locations