Genova out in July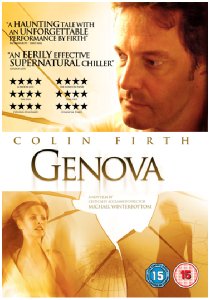 GENOVA
New release to DVD in the UK following its nationwide theatrical release
DIRECTED BY THE AWARD WINNING DIRECTOR MICHAEL WINTERBOTTOM AND STARRING COLIN FIRTH
DVD Release date: 13th July 2009
Running time: 89 minutes
DVD RRP: £19.99
Cert:
15
"This is top-drawer Winterbottom" -

Evening Standard
"One of Firth's finest films yet" -

The Sun
"A tender and touching film" -

The Observer
"Haunting … devastating" -

London Lite
A haunting, eerie journey to a place where souls stir and hearts go to mend themselves,
GENOVA
is the dark, brooding voyage of discovery for one family, torn apart by tragedy. 
After the sudden death of his wife, the sun drenched vistas and shadow-cloaked alleyways of the Italian town Genova provides Joe (
Colin Firth
) and his two young daughters a fresh new start. Joe throws himself into study and possible new relationships, the teenage Kelly (
Willa Holland
-
GOSSIP GIRL
,
THE O.C.
) loses herself in the underbelly of this mysterious new world, but it is youngest daughter Mary (
Perla Haney-Jardine - KILL BILL VOL. 2
) who is affected by this mystifying and alluring paradise in which she sees the ghost of her mother wandering the streets.  
Special features:
Bringing Genova to Life: the journey from story to screen
Shooting Genova: on location with the cast and crew
Original Score: Melissa Parmenter's acclaimed complete score