Zombie Virus on Mulberry Street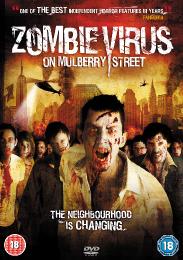 The Neighbourhood is Changing
Certificate: 18
Running Time: 81
Retail Price: £12.99
Release Date: 18/05/2009
Content Type: Movie
Synopsis:
It's the heart of a sweltering summer in New York City and the residents of 51 Mulberry Street are going about their daily business in the knowledge that they are soon to be evicted from their run down building. Among them is Clutch (Nick Damici), a retired boxer waiting for his daughter Casey's (Kim Blair) imminent return home from the war in Iraq.

Elsewhere in the city, a previously unknown rat-borne virus is spreading throughout the human population so quickly the emergency services are struggling to contain it. As day turns to night, the victims of this new plague begin to mutate into flesh-hungry creatures forcing the authorities to quarantine the island of Manhattan by sealing off all bridges and tunnels.

Back at Mulberry Street, Clutch and his neighbours have heard the news and are preparing to make a stand against any attack from outsiders, infected or otherwise, unaware that Casey is already in New York and fighting her way home through the bloody streets. What they do know is that while they are bolting doors and barring windows to keep the rodent-like zombies out, what's left of Manhattan will be trying to find a way in.
Special Features:
• Trailer
• Deleted Scenes
• Make Up Test
• Shooting Rat Creatures
• Behind The Scenes: The Rats
• Sketches
• Storyboards
• VFX Tests

Video Tracks:
Anamorphic Widescreen 1.78:1

Audio Tracks:
Dolby Digital 5.1 Surround English

Subtitle Tracks:
English HoH

Directed By:
Jim Mickle

Written By:
Jim Mickle
Nick Damici

Starring:
Nick Damici
Anton Pagan
Sarah Dickinson
Heidi Peterson
Jim Heater
Lou Torres
Tim House
Larry Fleischman
Bo Corre
Ron Price
Kim Blair
Rodney Gray
Javier Picayo
Larry Medich
John Gamborini
Joe Carr
John Hoyt
Emily Cain
Adam Folk
Vonia Arslanian
Danny Puriz
Larry Fessenden
Mitchell Riggs
Catherine Zambri
Luka Riggs
Laurel Astri
Devon Mikolas
Kathleen O'Donnell
Nikita Voskoboynik
Michael Murphy

Soundtrack By:
Andreas Kapsalis

Director of Photography:
Ryan Samul

Editor:
Jim Mickle

Costume Designer:
Vonia Arslanian

Production Designer:
Beth Mickle

Producer:
Linda Moran
Adam Folk

Executive Producer:
Tim House
Victor Assante

Distributor:
Momentum Pictures