Bronson out in July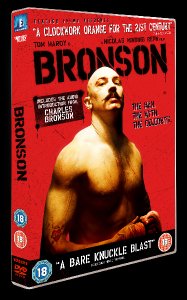 VERTIGO FILMS AND E1 HOME ENTERTAINMENT PRESENTS
*THE MOST CONTROVERSIAL FILM OF THE YEAR*
STARRING:
TOM HARDY / MATT KING / JAMES LANCE / AMANDA BURTON
DIRECTED BY:
NICOLAS WINDING REFN

On DVD From:

6th JULY 2009
CONTENT
Exclusive Monologues From the Real Charles Bronson
: Words From Inside Prison
Making Bronson
: The Making of the Film
Tom Hardy's Workout
Stills Gallery
Director's Commentary
Trailer / Teasers / TV Spots
Valhalla Rising Promo
In 1974, a hot-headed 19 year old named Michael Peterson decided he wanted to make a name for himself and so, with a homemade sawn-off shotgun and a head full of dreams he attempted to rob a post office. Swiftly apprehended and originally sentenced to 7 years in jail, Peterson has subsequently been behind bars for 34 years, 30 of which have been spent in solitary confinement.
With an intelligent, provocative and stylized approach, BRONSON (based on a true story) follows the metamorphosis of Mickey Peterson into Britain's most dangerous prisoner, Charles Bronson.