Thirty Years of Pain out in June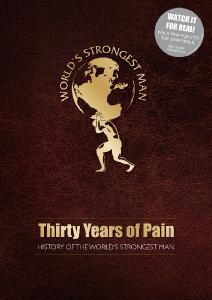 THIRTY YEARS OF PAIN
History of The World's Strongest Man
Release date:  15th June 2009
For three decades athletes have thrilled and astounded audiences around the world with their extreme feats of strength in The World's Strongest Man.  From the energy-sapping Atlas Stones to the awesome spectacle of the Plane Pull, only a select few have the guts, determination and sheer brute force to make the grade.  Every year millions tune in to follow the fortunes of these athletic giants on TV.  Now some of the best moments of this incredible competition have been brought together on one DVD: 
Thirty Years Of Pain
. 
Released on DVD on 15th June 2009,
Thirty Years Of Pain
is a fascinating documentary which follows The World's Strongest Man competition from its very first event at Universal Studios California right up to the 2008 finals in Charleston, West Virginia.  Bringing the action to life are interviews with some of the competition's biggest names including Bill Kazamaier, Geoff Capes and Magnus ver Magnusson as well as the event's founder, Barry Frank. 
In addition to the main programme, the DVD offers an exclusive special bonus feature, 'The Making Of The World's Strongest Man', which takes fans behind the scenes of the 2006 WSM Finals as contenders prepare for this gruelling contest.  Pre- and post- event interviews with athletes are also featured, including Mariusz Pudzianowski, Magnus Samuelsson and Britain's Terry Hollands. 
Purchasers of Thirty Years Of Pain DVD will also have the chance to enter an exclusive competition to travel to the finals of the 2009 World's Strongest Man competition in Charleston, West Virginia. 
World's Strongest Man is owned by IMG Sports Media. 
You won't find a Father's Day gift with more muscle!