Flame & Citron out today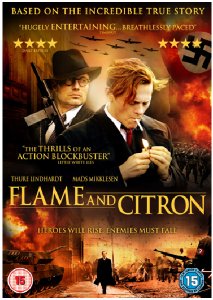 FLAME & CITRON
STARS MADS MIKKELSEN - VILLAIN FROM JAMES BOND SMASH HIT BLOCKBUSTER 'CASINO ROYALE'
OUT TO BUY ON DVD & BLU RAY FOLLOWING A NATIONWIDE CINEMA RELEASE
DVD Release date: 29th June 2009
Running time: 130 minutes
DVD RRP: £19.99
BLU RAY RRP: £24.99
Cert:
15
"Hugely entertaining... Breathlessly paced" - Time Out  
"This is a film with an emotional punch to match its hugely impressive craftsmanship… Tremendous performances in the lead roles"
- Jonathan Ross, Film 2009
Copenhagen 1944. As World War II approaches its dying days, two hit men for the Danish freedom fighters codenamed 'Flame' (
Thure Lindhardt
) and 'Citron' (
Mads Mikkelsen
) secretly put their lives on the line to fight the Nazis. 
The fearless and uncompromising Flame is a confirmed anti-fascist and dreams of the day when the group will assemble and openly launch an armed counterattack at the occupying power. The more sensitive family man, Citron, used to work primarily as a driver for Flame, but now finds himself becoming more deeply involved in the group's work. 
When their immediate superior, Aksel Winther, orders them into action against two German officers, events suddenly spiral out of control. In the fall out doubts about their leadership begin to surface, and the pair come to feel that they are on shaky moral ground. Desperate, disillusioned and with a sense of having been betrayed, they decide only to trust each other and embark on one final mission - to assassinate the much feared and hated chief of the Gestapo, Hoffmann. 
The film is based on incredible actual events and eyewitness accounts from some of the people who experienced Bent Faurschou-Hviid ("Flame") and Jørgen Haagen Schmith ("Citron") at very close range. 
SPECIAL FEATURES:
-          Al Jazeera 'That Fabulous Picture Show' Q&A with Mads Mikkelsen
-          Filmed interviews with director Ole Christian Madsen and actor Thure Lindhardt
-          Theatrical trailer