Che Part One and Part Two out in June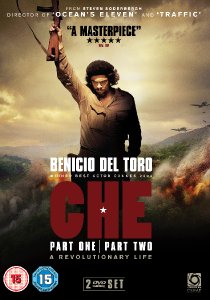 From the director of

Traffic, Ocean's Eleven &
Erin Brockovich
CHE PART ONE
&
CHE PART TWO
Produced and directed by Steven Soderbergh
Winner - Best Actor: Benicio Del Toro
Cannes Film Festival
Starring
Benicio Del Toro,
Carlos Bardem, Demián Bichir, Julia Ormond, Franka Potente & Lou Diamond Phillips
"Superb… A masterpiece.
Soderbergh's best film."
*****
TOTAL FILM
"Extraordinary"
****
EVENING STANDARD
"Soulful, gripping and staggeringly bold"
*****
LITTLE WHITE LIES
Out To Own as a box-set and individually on DVD and Blu-Ray
29th June 2009
One of the most eagerly awaited and critically acclaimed films of 2009,
Che
is an epic saga exploring the fascinating life of Ernesto "Che" Guevara, one of the most influential political figures of the twentieth century. Directed by Academy award winning filmmaker Steven Soderbergh (
Erin Brockovich, Out Of Sight, Traffic, Ocean's Eleven
), the two films star Benicio Del Toro (
The Usual Suspects, Fear And Loathing In Las Vegas, 21 Grams
) in a career-defining role that won him the best actor award at the 2008 Cannes Film Festival.  
CHE PART ONE
"Del Toro gives a stunning performance..."
****
EMPIRE
On November 26, 1956, Fidel Castro sails to Cuba with eighty rebels. One of those rebels is Ernesto "Che" Guevara, an Argentine doctor who shares a common goal with Fidel Castro - to overthrow the corrupt dictatorship of Fulgencio Batista. Che proves indispensable as a fighter, and quickly grasps the art of guerrilla warfare. As he throws himself into the struggle, Che is embraced by his comrades and the Cuban people. Partly based on his own memoirs (Reminisces Of The Cuban Revolutionary War),
Che Part 1
tracks his rise in the Cuban Revolution, from doctor to commander to revolutionary hero. 
Extras:
Behind the Scenes Featurette / Exclusive Interview with Steven Soderbergh / Theatrical teaser trailer 
Tech specs:
Region 2
Cert: 15
Feature Running Time: 129 mins approx
Aspect Ratio: 2.35:1
Colour PAL
Audio: Dolby Digital 5.1
Spanish Language with English subtitles
Cat no: OPTD1533
RRP: £17.99  
CHE PART TWO
"Absorbing, powerful and memorable."
JONATHAN ROSS
Che Guevara was a man of extreme integrity who believed that life should be motivated by moral incentive as appose to material gain. It was a belief that made him instrumental in the 1959 Cuban uprising and the historic siege on Batista's regime. It was also a belief that would lead him into the relentless, savage terrain of the Bolivian jungle and towards his tragic demise.
Che Part 2
is a poignant and masterful portrayal of a complex icon that constantly challenged himself and the world around him. 
Extras:
Exclusive interview with Benicio Del Toro / Interview with Alberto Iglesias (composer) / Interview with Jon Lee Anderson (Author of
Che Guevara: A Revolutionary Life) /
theatrical trailer 
Tech specs:
Region 2
Cert: 15
Feature Running Time: 127 mins approx
Aspect Ratio: 1.78:1
Colour PAL
Audio: Dolby Digital 5.1
Spanish Language with English subtitles
Cat no: OPTD1566
RRP: £19.99