Rachel Getting Married in late June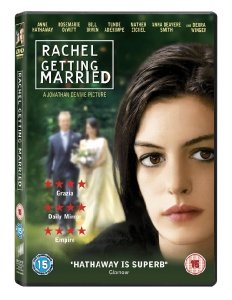 Rachel Getting Married
Powerful Drama Stars Academy Award® and Golden Globe® Nominee Anne Hathaway,
Debra Winger, Bill Irwin and Rosemarie Dewitt
Available on Blu-ray™ High-Def and DVD 29 June, 2009
Bonus Features Include Deleted Scenes, Audio Commentary, Featurettes and Q & A Panel with Director Jonathan Demme
Rachel Getting Married
, the contemporary family drama that became the talk of this year's film festival circuit, arrives on Blu-ray High-Def and DVD from Sony Pictures Home Entertainment on 29 June, 2009. Directed by Jonathan Demme (
The Manchurian Candidate, The Silence of the Lambs)
and penned by first-time writer Jenny Lumet, the film stars Academy Award® and Golden Globe® Nominee, Anne Hathaway (
The Devil Wears Prada, Brokeback Mountain
), Academy Award®-nominee Debra Winger (1983, Best Actress in Leading Role,
Terms of Endearment
), Bill Irwin (
Across the Universe, Lady in the Water
) and Rosemarie Dewitt (TV's "Mad Men,"
Cinderella Man
).
The film has been honoured with six Film Independent's Spirit Award nominations, including Best Feature, Jonathan Demme for Best Director, Jenny Lumet for Best First Screenplay, Anne Hathaway for Best Female Lead, and Rosemarie Dewitt and Debra Winger for Best Supporting Female Leads.
The
Rachel Getting Married
bonus features include deleted scenes, filmmaker and cast audio commentaries and featurettes and will be available on DVD for £19.99 RRP and on Blu-ray High-Def version will sell for £24.99 RRP.
Rachel Getting Married
isproduced by Demme, Neda Armian (
Jimmy Carter Man From Plains
), Ilona Herzberg (
Evan Almighty, The Manchurian Candidate
) and Mark E. Platt (
Legally Blonde
). 
Synopsis:
When Kym (Anne Hathaway - Academy Award and Golden Globe Nominee, Best Actress), returns to the Buchman family home for the wedding of her sister Rachel (Rosemarie DeWitt), she brings a long history of personal crises, family conflict and tragedy along with her. The wedding couple's abundant party of friends and relatives has gathered for a joyful weekend of feasting, music and love, but Kym - with her biting one-liners and flair for bombshell drama - is a catalyst for long-simmering tensions in the family dynamic. Filled with the rich and eclectic characters that remain a hallmark of Jonathan Demme's films,
Rachel Getting Married
paints a heartfelt, perceptive and sometimes hilarious family portrait.
DVD/ Blu-ray High-Def Special Features Include:
Filmmaker and Cast Commentaries
Deleted Scenes
A Look Behind the Scenes of

Rachel Getting Married

The Wedding Band Featurette
The Blu-ray Disc™ version of
Rachel Getting Married
is BD-Live™ enabled, allowing users to get connected and go beyond the disc via an Internet-connected Blu-ray player. Download content and give feedback through an exclusive survey.