SuicideGirls Must Die! hits DVD in June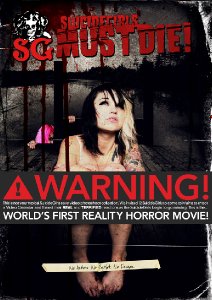 No actors. No Script. No Escape.
SUICIDEGIRLS MUST DIE!
On DVD June 29th
(Los Angeles, CA) - First Look Studios proudly announces the DVD release of
SUICIDEGIRLS MUST DIE!,
the first reality horror movie
.
When twelve nude models from the infamous SuicideGirls.com begin disappearing from a remote cabin, the calendar video they are shooting becomes a fun SuicideGirls' getaway gone dangerously wrong.
SUICIDEGIRLS MUST DIE!
is a blend of black humor and unnerving horror - with no actors and no script - it's all true. Except for the killings of course, but the girls don't know that! It is a scantily clad hellride that will leave you in stitches.
SUICIDEGIRLS MUST DIE!
is available on DVD June 29, 2010 at an SRP of $28.98.
SuicideGirls is a contemporary lifestyle brand that began in 2001 as a community, an online publication and a collection of alternative pin up photos. Combining the DIY attitude of underground culture with a vibrant, sex positive community of women (and men), the company was founded on the belief that creativity, personality and intelligence are not incompatible with sexy, compelling entertainment, and millions of people agree. SuicideGirls.com mixes the smarts, enthusiasm and DIY attitude of the best music and alternative culture sites with an unapologetic, grassroots approach to sexuality. They boast over 400,000 monthly subscribers and receive 1500 "hopeful" photo submissions each week. They have over 1.7 million friends on MySpace, 409,000 fans on Facebook and 35,500 followers on Twitter.
SUICIDEGIRLS MUST DIE!
- Specifications
Format - DVD
Running Time - 96 minutes (Unrated), 87 minutes (Rated)
Rated - Unrated and a rated R version
Street Date - June 29, 2010
Sound: 5.1 Dolby Digital Surround
SRP: $28.98
Aspect ratio: 16 X 9 2.35 Anamorphic Widescreen
Special Features:
SUICIDEGIRLS MUST DIE! Trailer, SUICIDEGIRLS MUST DIE! Rigel Confession (Unrated Version Only), Photo Gallery, English SDH & Spanish Subtitles and Previews
ABOUT FIRST LOOK STUDIOS
www.firstlookstudios.com
First Look Studios, a leading independent supplier in the entertainment marketplace, acquires, markets and distributes feature films, television series and specialty programming. First Look owns a vast home entertainment library consisting of over 1000 titles, including
War, Inc., Transsiberian, Priceless, The Proposition
and
King of California
. First Look also distributes a growing number of product lines to major retailers including Scripps (Food Network), Carsey-Werner ("The Cosby Show") and VideoAsia (
Battle Warrior
starring Tony Jaa). Recent theatrical releases from First Look Studios include
Bad Lieutenant: Port of Call New Orleans.