Page 1 of RIP Robin Willliams

RIP Robin Willliams
enemyonpc

(Elite)

posted this on

Monday, 11th August 2014, 23:18

RE: RIP Robin Willliams
enemyonpc

(Elite)

posted this on

Monday, 11th August 2014, 23:21

RE: RIP Robin Willliams
Blue John

(Elite)

posted this on

Monday, 11th August 2014, 23:25

RE: RIP Robin Willliams
dkuk2000

(Elite)

posted this on

Monday, 11th August 2014, 23:32

RE: RIP Robin Willliams
mbilko

(Elite)

posted this on

Monday, 11th August 2014, 23:51
Suicide...what a waste of an amazing talent :( just watched him on late late show with craig ferguson, feckin hilarious...

RIP

RE: RIP Robin Willliams
Mark Oates

(Reviewer)

posted this on

Monday, 11th August 2014, 23:54
Devastated.

You hear the term "comedy genius" bandied about, but you'd find his picture next to the dictionary definition.

RIP

J Mark Oates

---
It`s Grand To Be Daft
sprockethole.myreviewer.com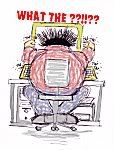 RE: RIP Robin Willliams
Sue Brown

(Elite Donator)

posted this on

Tuesday, 12th August 2014, 05:57
Devastated is the word. And apart from being a comedy genius, he was also a brilliant dramatic actor.

I never missed Mork and Mindy as a teenager. Loved it to the point of obsession.

Since hearing of his death I have sifted through my DVD collection to see how many movies I have that star him or feature him: eleven, being the following:

Good Morning Vietnam, Dead Poets Society, Awakenings, Good Will Hunting, Jakob the Liar, The Bicentenial Man, A.I. Artificial Intelligence, One Hour Photo, Insomnia, Night at the Museum 1 & 2.

That's quite a list. I really will miss him!

RE: RIP Robin Willliams
miikeyblue82

(Elite)

posted this on

Tuesday, 12th August 2014, 07:07
So very sad. Not sure I ever saw an interview where he wasn't smiling. Such a big character, his passing will leave a massive void. RIP.



RE: RIP Robin Willliams
His chat show appearances were always brilliantly anarchic, loved Mork and Mindy and enjoyed his movies (finally saw Jumanji recently). Very sad. :/


Editor
DVD REVIEWER
MYREVIEWER.COM

My Flickr Photostream

RE: RIP Robin Willliams
Snaps

(Elite)

posted this on

Tuesday, 12th August 2014, 08:53
I was following this live last night on 5Live as it broke about midnight and didn't really feel like adding to the thread for obvious reasons.
The CV speaks for itself and there's a number of his films I've still to catch up with but of the man himself...
Yes I've seem him interviewed a number of times but I've never seen him give an interview. What I've seen is a stand up performance given to often just the one reporter. You didn't interview him you lit the touch paper and stood back.
I'm guessing that from way back that was his way of dealing with 'it' people can't ask you daft questions if you don't breath in.

In so many ways we gained from his pain.

Whatever your belief system either the pain is now over or he's found some kind of peace in a different plane somewhere.

To the Stand up who never sat down. Farewell and thank you

Snaps

---
My new Flash Fiction blog. All my own work
500ish
---

I used to be with it, but then they changed what `it` was.
Now, what I`m with isn`t it, and what`s `it` seems weird and scary