One Night in Turin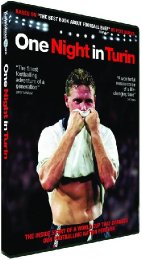 Gazza
Certificate: E
Running Time: 90 minutes
Release Date: 11/05/2010

Aspect Ratio:
Colour:
Sound Mix:
Language:

Synopsis:
Locked away behind barbed wire fences on the remote island of Sardinia, the England players, managers and fans must overcome their own demons, in order to see the rebirth of their reputations, of English football and even the perception of England.

The team's style under manager Bobby Robson was thought to be medieval, in fact Robson had become a laughing stock at home in England, but in Italy the team gave legendary performances which whisked the team into the semi final against old foes Germany.

This is the story of the team's personal and professional journey and the turning point in British culture.

Related Websites:
http://www.onenightinturin.co.uk/