England's Ashes Miracles boasts past glories on DVD this July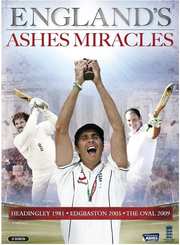 If you are a cricket fan, and currently enjoying this year's Ashes but can't wait to see how it ends, then realise we don't know where we are going with this train of thought. In the meantime, you can order a new DVD from
BBC Worldwide
, entitled
England's Ashes Miracles
.
That sounds like all of them to us, but we digress. This is a 3-disc collection featuring three of England's greatest Ashes Test matches in recent history.
With a runtime of 355 minutes and a recommended retail price of £9.99, this should keep fans going until
The Ashes 2013
arrives on 30th September
.
Synopsis follows...
England's Ashes Miracles set begins with the 1981 Headingley Test, where Ian Botham's valiant heroics with bat and ball culminated in an innings of 149 not out, thus turning the series on its head.
Next up is the 2005 Edgbaston Test, with Kevin Pietersen's batting and Andrew 'Freddie' Flintoff's impressive display of character and determination managing to wrest the Ashes from Australia's grasp for the first time since 1987.
Finally, it's off to The Oval for the victory that tipped the balance in the 2009 Ashes series, with bowler Stuart Broad taking five wickets in the first innings.