Review of Zidane: A 21st Century Portrait
Introduction
Asked to name a footballing artist, on the pitch, any avid viewer of the beautiful game will tell you that this generation`s numero uno was Zinedine Zidane. Now retired into infamy after his World Cup headbutt on Marco Materazzi, Zidane provided supporters with some sublime moments of technique, creativity, and agility during his eighteen years as a professional.
One such unforgettable moment came at Hampden Park, Scotland, when he scored Real Madrid`s winning goal in the UEFA Champions League Final 2002, against Bayer Leverkusen. Standing just outside of, and to the left of his opponent`s penalty area, the ball dropping vertically from several metres, Zidane unleashed a stunning left foot (his "wrong" foot) volley that beat Hans-Jorg Butt in the German goal. The goal remains an absolute must for any football highlight reel.
But even in his celebrity, Zidane remains an enigma, even to those who have followed his career closely. He rarely gives interviews, and when he does, chooses to be guarded, preferring to let his football do the talking.
In this film project, directors Douglas Brown and Philippe Parreno wanted to paint a portrait of Zidane through his efforts during a game. Thus, seventeen cameras around Real Madrid`s Bernabeu stadium all centred on Zidane, as his team contested a league match with Villarreal on 23rd April 2005. In the words of Parreno, they wanted to capture what happens to a footballing hero "when TV is not watching".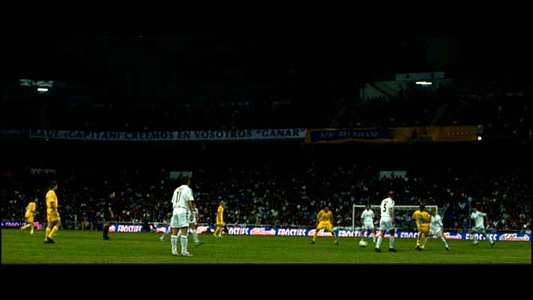 Video
Video is presented in 2.35:1 anamorphic PAL, and is excellent. Zidane was recorded by seventeen cameramen, using Super-35mm Scope format cameras, the technology of which is reflected in the excellent image here - I have never previously seen football`s on-field happenings captured so vividly.
This superb video is sometimes contrasted, within the film, to the Spanish television production, the image of which has been deliberately worsened to make it look like we are watching the match on a big screen. As it was a creative decision to use poor match footage, this doesn`t factor in to the overall video quality of this release.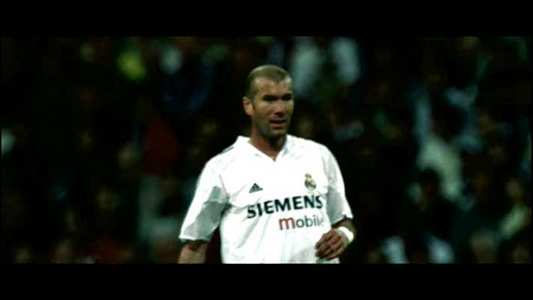 Audio
There are two audio tracks present, both of them French language tracks: Dolby Digital 5.1 and Dolby Digital 2.0.
As you would expect, the 5.1 is by far superior. Of particular note, its dynamic range is much larger, meaning that the relative quiet of the Spanish TV footage is contrasted with the boom of the film footage. The 2.0 track somewhat lacks that subtlety.
That is not to say, however, that the 2.0 track is not very good, because it certainly is. But the 5.1 track, using the surrounds to provide the Bernabeu`s crowd noise, almost brings you into that arena in a way that the 2.0 track can not.
The soundtrack is provided by Scottish post-rock band Mogwai, who bizarrely, are noted as "hard rock" by the directors, something they certainly are not, at least judging by this score. Their soundtrack is subtle, yet mixed forcibly, and provides an interesting compliment to the on-screen action. If this was the intention, it works well, as at no point does it draw attention away from the film itself.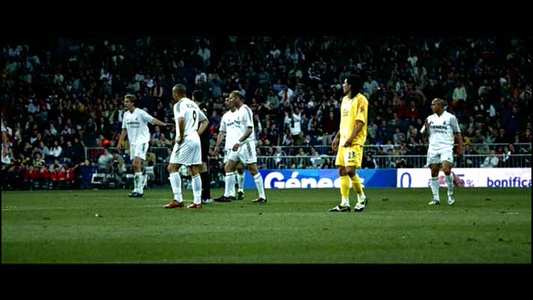 Features
There are over one hour`s worth of extras on this release, beginning with an interview with Zidane himself (8 mins) about the project, and how he thinks the match played out for the cameras. The interview is in French, with English subtitles, and is only mildly interesting, due in part to Zidane`s lack of natural charisma.
Next is an interview with Philippe Parreno and Douglas Gordon (31mins). This is interesting at some points, such as about how the concept came to fruition, but the interview also delves deep into their philosophy of art, something which will bore most viewers into switching off.
The "Making of" documentary (41 mins) is interesting, in particular the look at how the film was shot inside the stadium, what cameras were used, how their placement was decided etc. Also included is a look at the concept and recording of Mogwai`s soundtrack, which again was interesting, although I would have liked to have heard more of their raw, studio playing, rather than cuts from the finished soundtrack which played in the background here.
The trailer (1 min) is a good look at what to expect from the film as a whole, and Zidane`s introduction to the film (recorded for the Cannes Film Festival) is a nice addition as well.
Also included are brief biographies of Gordon and Parreno, and a photo gallery, which sadly is a collection of nineteen images, which have been digitised to make them look like they are images from one of the Bernabeu`s big screens. This was a chance to include some high-resolution, colour photos, so this is was very disappointing indeed.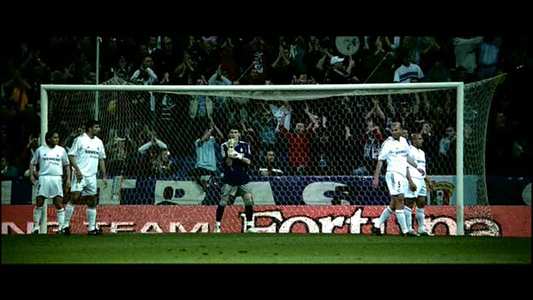 Conclusion
"Zidane: A 21st Century Portrait" is described on the front cover of the DVD as "the greatest film about football ever made" (The Observer) and as "an outstanding study of Zidane" (The Guardian) in its PR paperwork. Such utter nonsense makes me wonder whether either newspaper bothered to send a journalist to a showing, or whether said person just fell asleep ten minutes in.
I jest, of course, but only somewhat. I wonder, how can this be the "greatest film about football ever made", when it concentrates not on the match, not on the goals, but on one sole player? Similarly, how can this film be construed as "an outstanding study of Zidane" without looking at his Algerian heritage, his upbringing, or the events that shaped his life?
Rhetorical questions aside, it is clear that whilst it would be tempting to go into this believing that it is a documentary about football, it is much more a piece of art than it is a football documentary, or a character study. It seems that it was intended to be the latter, in which case the directors picked a poor subject. Whilst the film captures snippets of Zidane`s character - such as his outburst against opponent Quique Alvarez - we learn virtually nothing about him. Unlike other footballing legends such as Diego Maradona or George Best, Zidane cuts a stoic figure, rarely an emotion cracking his visage. When he creates Madrid`s first goal for Ronaldo, he does not celebrate for even a moment.
As such, the character study fails miserably, because we learn nothing about what makes Zidane tick. There is an attempt to express some of Zidane`s philosophy in the film`s subtitles, which are never spoken. In these, Zidane (at least, one assumes it is Zidane) gives us brief insight into what it is like to be on the pitch, surrounded by so many fans, but also speaks of how odd it is that "this walk in the park" will be remember just as much, if not more, than the news events of the day, which included the death of nine people in an Iraqi car-bomb attack. Unfortunately, that these comments were only seen rather than heard, took away much of their impact.
In the end, what we are really left with is ninety minutes of looking at Zidane, whilst the game goes on around him. There are many shots of his feet, although oddly, we don`t always see them when he has the ball. The film would have been much more interesting had Zidane contributed more to the game, but sadly his performance here belies his incredible ability. Therein lies the problem of capturing just one match.
As a piece of conceptual art, something that is clearly close to the hearts of the directors, "Zidane: A 21st Century Portrait" could be considered a success. There are fleeting moments of beautiful cinematography, such as when Zidane leaves the field to standing ovation, but sadly these are few and far between.
Most football fans, for they are the likely audience, will be left wondering what story the film is really trying to tell. The truth is that it doesn`t tell any story that isn`t better relayed on an edition of Match of the Day.