Animal Planet's Orangutan Island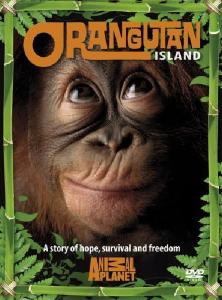 Exploring the society of our primate cousins in a way never witnessed before, Demand DVD is delighted to announce the release of Animal Planet's Orangutan Island, which gives an amazing, in depth look at this fascinating, solitary, mysterious species that shares 97% of our DNA.
This groundbreaking series attracted a loyal viewership on Animal Planet in the UK with audiences tuning in weekly to witness the lives, adventures and mishaps of this engaging new ape society. It makes its UK DVD debut on 23 February 2009 courtesy of Demand DVD.
In the heart of Borneo's rainforests the future is looking bleak for the red-haired "people of the forest"; Orangutans are struggling to survive in the wild, their natural home is being destroyed by logging, mining, forest fires and hunting, which has led to hundreds of Orangutan babies being orphaned, helpless and homeless.
But, thanks to pioneer Lone Droscher-Neilsen, and her team at B.O.S. (Borneo Orangutan Survival Foundation) a groundbreaking new project has given hope to orphans of this captivating yet mysterious species. The Nyara Menteng Rescue and Rehabilitation Centre is relocating 35 young Orangs to a protected 100-acre island where they can roam freely while learning how to survive in their natural habitat.
Witness the lives of these solitary yet sociable creatures on DVD as they form their own society on Orangutan Island.
The lively, endearing bunch of furry friends including the loveable Cha Cha, the mischievous "Bandit Boys," scrappy Daisy, femme fatale Jasmine, moody Chen Chen and the rest of their classmates are transferred to the island, so that they can overcome their traumatic past and learn to live free from the helping hands of the humans they've become reliant on.
While testing their skills - and each other's patience - these 35 rowdy young Orangutans wreak jungle havoc!
Title: Orangutan Island
Release Date: 23 February 2009
RRP: £29.99
Certificate: Exempt
Run Time: 4 DVD set 240mins