The Pink Panther Film Collection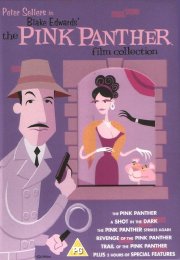 Over 12 hours of classic comedy
Certificate: PG
Running Time: 495 mins
Retail Price: £59.99
Release Date: 2007
Content Type: Movie
Synopsis:
A set of 5 feature films starring Peter Sellers as Inspector Jacques Clouseau plus a special 6th disc loaded with extra features! The movies comprise:

The Pink Panther (1963) When the famous Pink Panther diamond goes missing the bumbling Inspector Clouseau goes on the trail of notorious jewel thief The Phantom, but looks everywhere except in the right place!


A Shot In The Dark (1964) As murder follows murder, with the beautiful Maria as the obvious suspect; bumbling Inspector Clouseau drives his boss Dreyfus mad by stubbornly vowing to prove her innocence!


The Pink Panther Strikes Again (1976) Being sent insane by working with Clouseau for too long Sgt Dreyfus vows to destroy him forever - and if he can't he vows he will destroy the world. Clouseau ends up with over 20 assassins on his tail but is more worried about his martial arts manservant getting the better of him!


Revenge Of The Pink Panther (1978) Following Clouseau's supposed assassination Dreyfus is declared sane and released. But how will he cope with the truth when he finds out that the Inspector is actually alive and undercover working with Kato to discover who wanted him dead?


Trail Of The Pink Panther (1982) The Pink Panther diamond is stolen once again from Lugash and the authorities call in Chief Inspector Clouseau from France but his plane disappears en-route. Famous French TV reporter Marie Jouvet sets out to solve the mystery...
Special Features:
Audio Commentary with director Blake Edwards
Trivia Track
Original Theatrical Trailer (and featured on all feature discs)
Inside The Pink Panther - an all new documentary
'The Unknown Peter Sellers' documentary (1 hour)
'That's Panthertainment': a vintage 1978 special including outtakes and deleted scenes
'The Commercial Peter Sellers': includes a 'Making Of' programme
'Behind The Feline - Cartoon Phenomenon': a new documentary focusing on the cartoon creation
Six of the best Pink Panther cartoons including Academy Award Winner 'The Pink Phink'
'Shots In The Dark': a photo gallery
Exclusive highly collectible eight page booklet

Video Tracks:
2.35:1 anamorphic widescreen

Audio Tracks:
Dolby Digital 5.1 Surround English
Dolby Digital 5.1 Surround French
Dolby Digital 5.1 Surround German
Dolby Digital 2.0 Stereo Czech
Dolby Digital 2.0 Stereo Italian
Dolby Digital 2.0 Stereo Spanish

Subtitle Tracks:
English
German
Czech
Danish
Dutch
Finnish
French
Greek
Italian
Norwegian
Portuguese
Spanish
Swedish
Turkish

Directed By:
Blake Edwards

Written By:
Blake Edwards
Maurice Richlin
William Peter Blatty
Harry Kurnitz
Marcel Achard
Frank Waldman
Ron Clark
Tom Waldman
Geoffrey Edwards

Starring:
David Niven
Peter Sellers
Robert Wagner
Capucine
Claudia Cardinale
John Le Mesurier
Elke Sommer
George Sanders
Herbert Lom
Tracy Reed
Graham Stark
David Lodge
André Maranne
Burt Kwouk
Lesley-Anne Down
Colin Blakely
Leonard Rossiter
Michael Robbins
Dyan Cannon
Robert Webber
Tony Beckley
Robert Loggia
Paul Stewart
Alfie Bass
Richard Mulligan
Joanna Lumley
Harvey Korman

Casting By:
James Liggat
Mary Selway

Music From:
Henry Mancini

Director of Photography:
Philip H. Lathrop
Christopher Challis
Harry Waxman
Ernest Day
Dick Bush

Editor:
Ralph E. Winters
Bert Bates
Alan Jones

Costume Designer:
Margaret Furse
Tiny Nicholls
Patricia Edwards

Production Designer:
Michael Stringer
Peter Mullins

Producer:
Martin Jurow
Blake Edwards
Tony Adams

Executive Producer:
Tony Adams
Jonathan D. Krane

Distributor:
MGM