Review of Haibane Renmei: Complete Series Box Set
Introduction
Of all the employment opportunities in the afterlife, being an angel has to be the prize gig. Lazy days of sitting on clouds strumming harps and eating low-fat cream cheese - with the odd field trip to the mortal plain to smite Egyptian first-borns or stalk Dennis Quaid`s ex wives - it sure beats the other high-profile hereafter jobs. Perhaps with the exception is the guarding of the gates of Hell; there are many people who`d quite happily spend their post-mortem years as 3-headed hellhound Cerberus, whose responsibilities only extend as far as chasing evil postmen, licking his evil balls and shepherding society`s most evil non-living citizens - lawyers, politicians, people who put marmalade on scones - into the fiery lungs of Hades.
`Haibane-Renmei` is all about those darned lucky angels. Sort of. Well, not really. It`s about human-type beings with halos and wings, but they`re not particularly angelic. It`s quite difficult to put a finger on just what they are, although they sure display the sweetness and innocence of the celestial variety. Called the Haibane (hi-ban-ay), or Charcoal Feathers, they live on the outskirts of a quaint, cobbled town populated by humans. While they interact and work with the townsfolk when they have to, they keep to themselves for the most part, holed up in an old schoolhouse. Our window into the world is Rakka, a new Haibane who arrives, like the rest, birthed through a giant cocoon with no memory of who she was or where she came from, save that she was someone and came from somewhere. As she embarks on her new life as a Haibane, she begins to ask questions and seek answers into who the Haibane are and why they`re here. What is their purpose? Why are they not allowed to venture outside the town`s walls? Who are the mysterious Haibane-Renmei organisation who seem to know the Haibane`s every move and keep watch over them? And perhaps most importantly, will Rakka and the Haibane be ready for the answers?
From the mind of Yoshitoshi ABe (`Texhnolyze`, `Serial Experiments Lain`) and based on his self-published Manga of the same name, `Haibane-Renmei`, originally broadcast in Japan in the fall of 2002, is another bold episodic series experimenting with hidden themes, ambiguity and interpretation, pushing the limits of what viewers expect from the wonderful medium of anime.
Episodes:
1. Cocoon/Dream of Falling/Old Home
2. Town and Wall/Toga/Haibane-Renmei
3. Temple/Communicator/Pancakes
4. Trash Day/Clock Tower/Birds Flying Over the Walls
5. Library/Abandoned Factory/The Beginning of the World
6. Ender of Summer/Rain/Loss
7. Scar/Illness/Arrival of Winter
8. The Bird
9. Well/Rebirth/Riddle
10. Kuramori/ Haibane of Abandoned Factory/Rakka`s Job
11. Parting/Darkness in the Heart/Irreplaceable Thing
12. Bell Nuts/Passing of the Year Festival/Reconciliation
13. Reki`s World/Prayer/Epilogue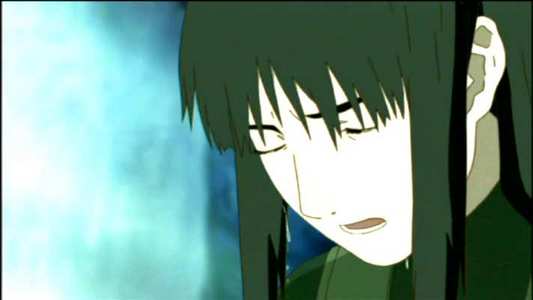 Video
Presented in 1.78:1, `Haibane-Renmei` gets a particularly soft transfer, which on first glance, doesn`t hold up well against some of MVM`s more recent releases, particularly as each volume is squeezed onto a single-layer disc and there`s the odd appearance of artefacting. However, while the animation and character design are uniformly unambitious, the art direction with its subdued, burnt palette - dusty sepias, browns, greens and yellows - is a refreshing change to a more low-key art style that suits the ethereal delicacy of the characters and the story.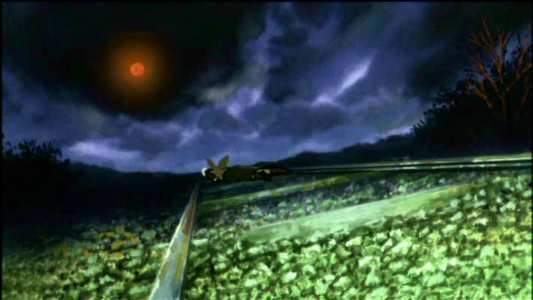 Audio
Dolby Digital 2.0 in either native Japanese or an English dub with accompanying subtitles. Both tracks, on a technical level, are decent stereo tracks. The Japanese original will be the choice of many, thanks to the typically over-performed English dub sounding a little stilted, forced and cartoonish. The native track, while unlikely to fall upon many fluent ears with this release, is still considerably superior in terms of discernible qualities - pitch, tone, delivery, etc. The show is steeped in fantastic music from Kō Ōtani, with frequent use of effective scoring. The opening theme `Free Bird` by Ōtani and the Masum Ito arranged closing song `Blue Flow`, with their delicious melodies, are well composed and add to the whole aural aspect of the show being a real treat.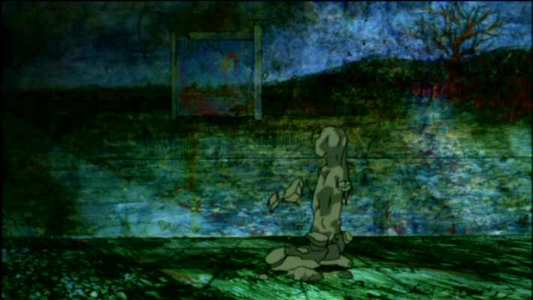 Features
The originally released four individual volumes are housed in a cardboard sleeve-box. Aside from the usual MVM plethora of creditless openings, trailers and art galleries spread across the four volumes, there`s a short 10-minute interview with Yoshitoshi ABe and series producer and long-term collaborator Yasuyuki Ueda and a `special ending` which sees the credits scroll on original artwork from the show.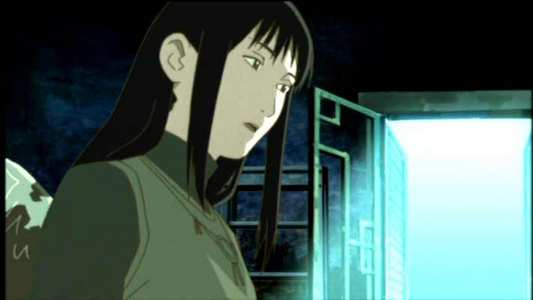 Conclusion
`Haibane-Renmei` is a solid anime series of a rather different variety to what anime usually throws up. Shows with ABe`s involvement have always been works displaying a certain flawed genius, and while `Haibane-Renmei` shows no less genius, it does present more flaws than usual, making up for it with a universal surface appeal likely to resonate with a more mainstream audience on first glance than the likes of `Texhnolyze` or `Lain`, and having a broader base biting at what it has to offer. ABe takes real control over a series for the first time and paints an interesting world, steeped in history and mystery, but it`s let down by a bad habit of letting not just the over-arcing plot, but the individual stories told in the episodes grind to a narrative halt far too often; in several episodes, the story completely stalls and evaporates, leaving a lingering sense of purposelessness. Adapting his own Dōjinshi allows ABe to retain his own personal creative vision - forgoing the inevitable sexing up -which is commendable, but the failure to keep a steady pace puts a spanner in the show`s ability to tell its story in as captivating a manner as possible.
The truth is nothing much happens in your average episode of `Haibane-Renmei`. The early installments see Rakka trying to fit into her new surroundings, normally by working alongside the other Haibane in the vocations they`ve chosen in the town - baker, librarian, watchmaker, and now and again she stops to wonder why they`re here. It`s Rakka adjusting to her menial daily life, punctuated by bouts of existential musing. As the show progresses, Rakka acquaints herself with some of the town`s more mysterious characters and finds herself involved in deeper mysteries of the town and the Haibane. But the individual, stand-alone plots carrying the viewer through each episode are fairly light on real meat, and the over-arcing mysteries remain on the backburner, with some pertinent questions never really answered. Slow-burning isn`t even the word, particularly around the second volume when the show falls into a real narrative lull it looks like it may never recover from. But to much surprise it does, and goes on to prove it has a fundamental and interesting story to tell, culminating in a heartfelt crescendo, the value of which goes some way to counter-balancing the pacing issues. Getting to that point may prove to be a bit of an effort, but stick with it and it delivers profound and quietly moving messages.
`Haibane-Renmei` joins luminaries such as `Magnetic Rose` from `Otomo Katsushiro`s Memories`, `Jin Roh: The Wolf Brigade` and `Grave of the Fireflies` as anime with real emotional potency; look beneath the surface and you`ll discover a meaningful and deep-rooted story. The show relies on the under-appreciated art of viewer interpretation as a different breed of thinking man`s anime, and its use of careful character mannerisms, facial expressions and relationship interaction for conveyance of its messages isn`t going to be to everyone`s tastes. Perhaps in the past its greatest foe was the proclivity towards volumising anime, where a wait of months between the publishing of the serial for the DVD market could see viewers lose interest in a story which takes its own sweet time to be told. This boxset nullifies that, allowing a viewer to soak up uninterrupted a series that, despite its faults, does deserve a certain level of appreciation.