Naruto Unleashed: Series 4 Part 2 (3 Discs) (UK)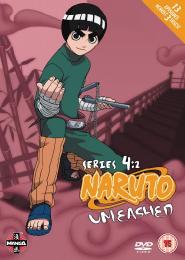 Featuring episodes 92 to 104
Certificate: 12
Running Time: 307 mins
Retail Price: £24.99
Release Date: 2008
Content Type: TV Series
Synopsis:
Long ago, a powerful Demon Fox appeared in peaceful Konoha, the Village Hidden in the Leaves. Their families and homes threatened by this evil force, the Shinobis - or ninjas - fought long and hard to protect themselves but to no avail. Then, one Shinobi - known as the Fourth Hokage - made the ultimate sacrifice, sealing the spirit of the demon in the body of a newborn baby boy… Naruto Uzumaki. Twelve years later, Naruto has grown into a lonesome orphan with boundless energy and dreams of becoming the next Hokage. Treated as an outcast by the rest of his village ever since he became the human vessel for the spirit of the Demon Fox, all Naruto really yearns for is attention and respect. Beginning his own ninja training at the Ninja Academy, Naruto develops a secret crush on a girl in his graduation class, Sakura Haruno. Unfortunately for Naruto, Sakura only has eyes for Sasuke Uchiha, another fellow graduate and Naruto's main rival.

In the battle-torn Hidden Leaf Village, the Third Hokage and the Leaf Ninjas make their final stand against Orochimaru and his minions.

In the aftermath of Orochimaru's attack, the village mourns, but the life of a ninja goes on! An eager Naruto departs on a training mission with Jiraiya to find a legendary kunoichi. Meanwhile, two unwelcome visitors arrive in town. Why does this trouble Sasuke? And why are they looking for Naruto?!
Special Features:
Trailers

Video Tracks:
Standard 1.33:1

Audio Tracks:
Dolby Digital Stereo 2.0 Japanese
Dolby Digital Stereo 2.0 English

Subtitle Tracks:
English

Directed By:
Hayato Date
Jeff Nimoy

Starring:
Junko Takeuchi
Chie Nakamura
Noriaki Sugiyama
Kazuhiko Inoue

Music From:
Toshiro Masuda
Jeremy Sweet

Distributor:
Manga Entertainment Ltd