Review of Tokyo Godfathers
Introduction
When it comes to the anime medium, there is one name that makes me sit up and take notice, Satoshi Kon. If you want mind bending, thought provoking, character driven adult animation, Satoshi Kon`s name is at the top of a very short list. The previous year has seen the groundbreaking television series Paranoia Agent released in the UK, and Kon also explored similar themes in his first feature Perfect Blue, a tense psychological thriller. In Millennium Actress he explored more romantic themes, in a love story told over 50 years. The release of his latest feature Paprika is imminent, a film I await with bated breath. It seems the perfect opportunity to review another of his feature films, Tokyo Godfathers. Take three homeless people and a lost baby at Christmas time, apply some Satoshi Kon magic, and the result is bound to be unique.
Christmas is much like any other time when you`re homeless, and it`s no different for Gin, a down on his luck gambler, Miyuki, a runaway teenager and transvestite Hana. But things begin to change for them when they find a baby abandoned at a rubbish tip. They take pity on the poor child, and decide to return her to the mother. Their journey takes them on an adventure through the city, and while they try to accomplish this Christmas miracle, the baby may be the miracle that brings light to their own bedraggled lives.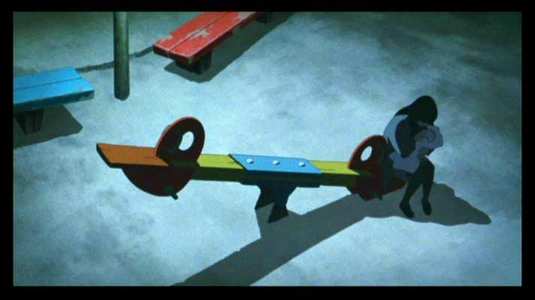 Video
Tokyo Godfathers gets a 1.85:1 anamorphic transfer, although it is more 1.9:1, with thin black lines at the top and bottom of the image. The picture really is quite splendid, with a crystal clear PAL transfer. It`s clear, sharp and colourful, and showcases the character designs and the snow covered cityscapes to excellent effect. The detail and care in the design of the animation is quite astounding, with small character nuances and trivial detail brilliantly recreated.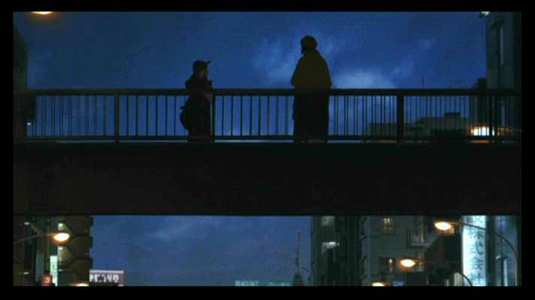 Audio
You have a choice between DTS and DD 5.1 Japanese, as well as a DD 5.1 Spanish dub. There are uncounted subtitle tracks from Columbia Tristar to accompany them. It`s a splendid surround track, with the film making fair use of the surrounds for effects, ambience and music, while the dialogue is clear throughout. The end credits are a treat, with Beethoven`s 9th Symphony given a reggae makeover and Japanese lyrics.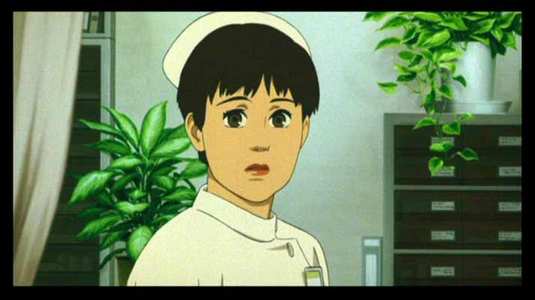 Features
There are nothing but trailers for this barebones edition.
However, if you should so choose, there is still a Limited Edition boxset available. This is a boxset worthy of the name, resembling a brick, and with oodles of goodies, including a thick volume of the film`s complete storyboards. The film itself comes with a second disc full of featurettes. But expect to pay on the high side of £30.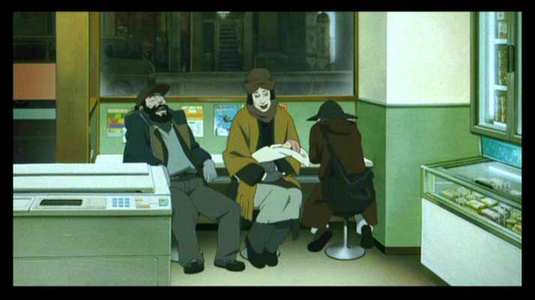 Conclusion
Tokyo Godfathers is by far Satoshi Kon`s most accessible work, a heart-warming and tender Christmas story that`s bound to divest the most committed of Scrooges of his bag of humbugs. Having said that, it`s still as far from the conventional Christmas tale as you can get, without it being Easter. The story itself is a familiar one, Kon has said that he was influenced by the 1948 John Ford Western, The 3 Godfathers, which saw John Wayne and 2 other outlaws left in charge of a baby in the middle of a desert, and the motif may be familiar to fans of the computer animation Ice Age. Tokyo Godfathers is very much a character piece though, and with its unlikely heroes plucked from society`s least wanted, it`s never less than compelling.
The world has forgotten about these three, and they themselves have accepted their lot, wishing to fade into insignificance. For various reasons, they are escaping their pasts, although they have managed to form a surrogate family of their own. The discovery of the baby acts as a catalyst for them to deal with their problems, and begin to reengage with society. Of course with the seasonal setting there is no surprise that they begin to attribute supernatural portents with the events that occur, they begin to talk of the baby as a messenger from God, and there is occasion for Kon`s warped perspective on things to deliver a hopeful message, helped of course by Gin`s affection for the bottle. Still, this wouldn`t be a Christmas movie without at least one genuine Christmas miracle.
This film isn`t for younger children, the 12 rating is indicative of that, and while Satoshi Kon is renowned for mind-bending perspectives on subjects, he isn`t one to sugarcoat them either. There is no way of showing the plight of the homeless in a wholesome and uplifting way without descending into the saccharine. Tokyo Godfathers remains honest and forthright when it comes to its characters, and that means warts and all. But that makes the empathy that develops for them all the stronger.
If you are tired of The Sound Of Music come Christmas Day, you could do worse than watch Tokyo Godfathers instead. It hits all the right emotional notes, playing those heartstrings like a master harpist. It`s dramatic, uplifting, and funny, with just the right amount of tragedy and hope. The barebones DVD may be sparse, but it ideally showcases the film. The sublime animation is truly a joy to watch, and Satoshi Kon`s vision of the forgotten half of a city at Yule is utterly memorable. This may come as something of a shock, but I`m going to recommend another anime.