Review of Eerie, Indiana: The Complete Series (Collector`s Edition)
Introduction
Eerie Indiana ran to only one series and probably because of this has acquired a wistful cult status amongst people who mourn the annual cull of shows. Rather than being content that it provided 19 episodes of watchable TV they speculate on what can now never be…yes I`m usually one of them. There are many shows that overstay their welcome and there are shows that leave you unsatisfied after their short life. This is somewhere in between. It has a fair crack of the whip with 19 shows and at least creativity is not stifled by this constant churning of material.
Omri Katz stars as Marshall Teller the hapless boy dumped in an average-average American town. He is best known(if at all) for his role as JR Ewing Jnr the child of lush Sue Ellen and scheming JR. Working with Larry Hagman was good preparation for the twisted tales of Eerie Indiana.
The first few episodes are directed by Joe Dante-a director who after showing some early promise seems to have faded out from interesting projects. He is listed as creative consultant for the rest of Eerie and shortly after made "Amazing Stories" for TV with Steven Spielberg.
Billed as an X Files for young adults this is an amusing look at the dark side of suburbia. Marshall keeps a chronicle of the weird happenings that lurk just beneath the veneer of normality.
I`d like to over you an overview of the series with a reasoned critique on whether it`s worth the money but as I have only been sent one disc I`ll have to wildly speculate using my memories and the titles list.
Episodes:
1.Foreverware
This rather clever skit on Tupperware works well. Directed by Joe Dante we meet Marshall bemoaning his less than ideal mother. Her housekeeping is lees than perfect until she meets the spookily perfect local mother who signs her up to Foreverware. But just how old are her twins?
Unfortunately this is not the series opener proper as the pilot episode was never filmed. Therefore you are thrown into the story with no set-up of the characters.
2. The Retainer
Marshall really doesn`t want a retainer and avoids his dental appointments. It`s not his fault it`s just that one of his friends had terrible trouble with dogs when he discovered he could hear their thoughts through his brace…
Hmm this is not the strongest of episodes but still is amusing enough.
Favourite line "bite the hand that feeds us". Writers of the recent Garfield must have seen this.
3. ATM with a Heart of Gold
Marshall`s Dad has invented the perfect ATM. But whilst Marshall is busy making new friends he doesn`t notice that his abandoned best friend Simon is pouring out his troubles the friendly face of the ATM. Soon he`s getting all his pocket money there and making new friends for himself.
Max Headroom in Eerie.
4. The Losers
When his Dad`s briefcase goes missing Marshall is convinced that there is something mysterious happening.
Soon he finds he is lost and must rely on good friend Simon to find him.
Guest stars: Henry Gibson (Rowan and Martin`s Laugh In, Boston Legal) and Dick Miller (character actor who has appeared in virtually all Joe Dante`s projects.
5. Scariest Home Videos
6. Just Say No Fun
7. Heart on a Chain
8. The Dead Letter
9. Who`s Who
10. The Lost Hour
11. Marshall`s Theory of Believability
12. Tornado Days
13. The Hole in the Head Gang
14. Mr. Chaney
15. No Brain, No Pain
16. The Loyal Order of Corn
17. Zombies in P.J.s
18. Reality Takes a Holiday
19. The Broken Record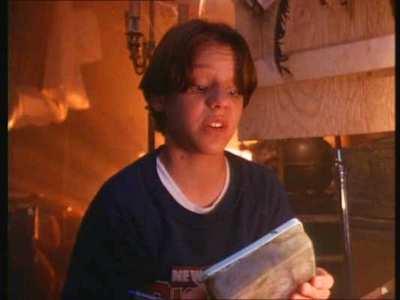 Video
This is a difficult one -the quality of the review disc was iffy but overall the picture reproduction was adequate. This is not high-end stuff though with a fairly tacky opening sequence and low-grade back projection (which could be deliberate irony who knows?)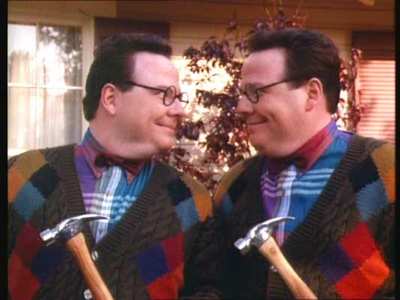 Audio
The reproduction is adequate.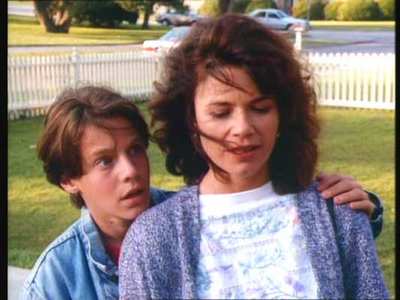 Features
Where have you been and what are you looking at? There`s nothing here move along now.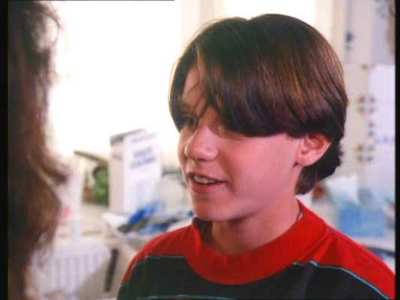 Conclusion
Closer to The Twilight Zone than The X Files this show is stuffed with references most of which will be lost to the supposed young audience it was aimed at. With 30 minute episodes it doesn`t tax your staying power and each episode is self contained so no problem with only viewing a few of them. There is no character development and it is made to be viewed as single incidents with Marshall and Simon being the common thread.
Of the few episodes sent to review it is as quirky and funny as a remembered from 13 years ago when it was shown on Channel 4 and if you are looking for some light relief its worth expending the few pounds for some nostalgia TV and in retrospect looks to be a high point of director Joe Dante`s career.