Champions, The: The Complete Series (Box Set) (UK)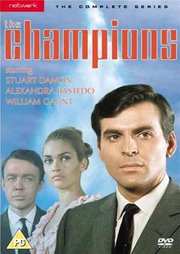 They`re the tops. The best. The peak. They`re the champions
Certificate: PG
Running Time: 1440 mins
Retail Price: £59.99
Release Date:
Content Type: TV Series
Synopsis:
Lose yourself in `The Champions` - the 1960`s classic adventure series.
Three agents from the NEMESIS organisation are injured in a fatal plane crash in the Himalayas. They are miraculously rescued by a mysterious Tibetan monk and given special powers, including super strength, telepathy, ESP as well as an overall heightening of their natural senses. Using their interlinked sense of each other`s whereabouts, thoughts and actions they become `Champions`... of Law, Order and Justice.

Follow agents Craig Stirling (Stuart Damon), Sharron Macready (Alexandra Bastedo) and Richard Barrett (William Gaunt), as they battle villains intent on destruction and fight drug smugglers, spies and kidnappers.

This cult TV series features special guest star appearances from Burt Kwok, Peter Wyngarde, Anton Rogers, Steven Berkoff, Gerald Harper, Donald Sutherland, Gabrielle Drake, Hannah Gordon and Paul Eddington.

This 8 DVD box set features all 30 episodes ever made of the classic 1960`s cult TV series `The Champions`.

Episode titles: `The Beginning`, `The Invisible Man`, `Reply Box No. 666`, `The Experiment`, `Happening`, `Operation Deep-Freeze`, `The Survivors`, `To Trap A Rat`, `The Iron Man`, `The Ghost Plane`, `The Dark Island`, `The Fanatics`, `Twelve Hours`, `The Search`, `The Gilded Cage`, `Shadow of the Panther`, `A Case of Lemmings`, `The Interrogation`, `The Mission`, `The Silent Enemy`, `The Body Snatchers`, `Get Me Out Of Here!`, `The Night People`, `Project Zero`, `Desert Journey`, `Full Circle`, `Nutcracker`, `The Final Countdown`, `The Gun-Runners` and `Autokill`.
Special Features:


Video Tracks:
Standard 1.33:1

Audio Tracks:
Dolby Digital Mono English

Subtitle Tracks:
CC: English

Directed By:
Paul Dickson
Cyril Frankel

Starring:
Alexandra Bastedo
Stuart Damon
William Gaunt
Anthony Nicholls

Soundtrack By:
Edwin T. Astley
Albert Elms
Robert Farnon
Tony Hatch

Producer:
Monty Berman

Distributor:
Carlton