Batman Begins (2 disc set) (UK)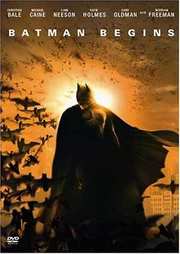 Explores the origins of the Batman legend
Certificate: 12
Running Time: 134 mins
Retail Price: £22.99
Release Date: 2005
Content Type: Movie
Synopsis:
Batman Begins explores the origins of the Batman legend and the Dark Knight`s emergence as a force for good in Gotham. In the wake of his parents` murder, disillusioned industrial heir Bruce Wayne (Christian Bale) travels the world seeking the means to fight injustice and turn fear against those who prey on the fearful. He returns to Gotham and unveils his alter-ego: Batman, a masked crusader who uses his strength, intellect and an array of high tech deceptions to fight the sinister forces that threaten the city.
Special Features:
Batman: The Journey Begins
Creative Concepts, Story Development and Casting.
Shaping Mind and Body: Fighting Style.
Gotham City Rises: Production Design.
Cape and Cowl: The New Batsuit.
Batman - The Tumbler: The New Batmobile.
Path to Discovery: Filming in Iceland.
Saving Gotham City: The Monorail Chase Sequence.
Genesis of the Bat: Batman Incarnations from the Mid-1980s to the Present.
Confidential Files Character/Weaponry Gallery.
Still Gallery of Design Ideas Developed to Market the Movie.
DVD-Rom Weblink.

Video Tracks:
Widescreen Anamorphic 2.40:1

Audio Tracks:
Dolby Digital 5.1 English
Dolby Digital 5.1 German

Subtitle Tracks:
French
Hebrew
Icelandic
English
Spanish
German
Arabic

Directed By:
Christopher Nolan

Written By:
Christopher Nolan
Bob Kane
David S. Goyer

Starring:
Gary Oldman
Katie Holmes
Liam Neeson
Michael Caine
Christian Bale
Cillian Murphy
Tom Wilkinson
Rutger Hauer
Ken Watanabe
Linus Roache
Morgan Freeman

Casting By:
John Papsidera
Lucinda Syson

Music From:
James Newton Howard
Hans Zimmer

Director of Photography:
Wally Pfister

Editor:
Lee Smith

Costume Designer:
Lindy Hemming

Production Designer:
Nathan Crowley

Producer:
Charles Roven
Emma Thomas
Larry J. Franco

Executive Producer:
Benjamin Melniker
Michael E. Uslan

Distributor:
Warner Bros